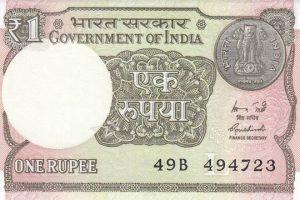 The Union Ministry of Finance has notified 'Printing of One Rupee Currency Notes Rules, 2020' vide Gazzette Notification G.S.R. 95(E) dated February 7, 2020. "The One Rupee notes shall be printed at the note printing presses for issue under the authority of Government of India for circulation.
New one rupee note dimensions
The One Rupee currency note shall be rectangular 9.7 x 6.3 cms, with its paper made of 100 per cent (cotton) rag content. The note will be 110 microns thick, weighing 90 GSM (Grams per Square Meter). It will also have multi-tonal watermarks with Ashoka Pillar in the window without the words 'सत्यमेव जयते' (Satyamev Jayate), hidden numeral '1' in the centre and the hidden word 'भारत' (Bharat) vertically arranged on the right-hand side.
New one rupee note design
The Obverse side of one rupee note will contain the words "भारत सरकार" above the words "Government of India" with the bilingual signature of Shri Atanu Chakraborty, Secretary, Ministry of Finance and with the replica of New Rupee One coin with '₹' symbol of 2020 issued with 'सत्यमेव जयते" and capital Inset letter 'L' in numbering panel.
The design surrounding will be of the Sagar Samrat, which is an oil exploration rig. The rig drilled the first offshore well in 1974 and has been in service with the Oil and Natural Gas Corporation (ONGC) since.
New one rupee note colour
The overall colour of One Rupee Currency note will be predominantly pink green on obverse and reverse in combination with others.
History of currency note in India
Currency notes were introduced in India in 1861, and the one-rupee note was introduced by the British on November 30, 1917. Although the printing of the note was discontinued in 1994, it was reintroduced in 2015 after a gap of 22 years.
Important takeaways for all competitive exams:
Union Minister of Finance and Minister of Corporate Affairs: Nirmala Sitharaman.