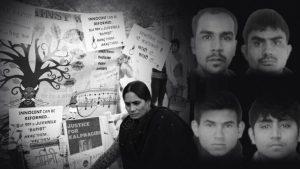 Four convicts in Nirbhaya gangrape and murder case were hanged to death at Tihar jail in Delhi early this morning. The four convicts are Pawan Gupta, Vinay Sharma, Akshay Kumar and Mukesh Kumar. Delhi High Court and Supreme Court dismissed a last-minute plea by the convicts, paving the way for the execution. This is for the first time that four men were hanged together in Tihar Jail.
Director-General of Tihar jail Sandeep Goel has confirmed that the four convicts were hanged together at 5.30 a.m. A doctor has examined and declared all four dead.
History of Nirbhaya gangrape and murder case:
Nirbhaya was a paramedic student, was gang-raped by six men in a moving bus in South West Delhi in December 2012. The woman had died at a Singapore hospital a few days later.
One of the accused killed himself in jail and the sixth- a juvenile was released from a reformation home after serving a three-year term. The execution of the four nirbhaya case convicts got delayed three times previously, as they were using all the legal remedies available to be freed from the sentence. The first execution date was set for January 22 but it was postponed to February 1.
On January 31, the court postponed the hanging for an indefinite period. Then, on February 17, the court set the third execution date for March 3 at 6 am. However, the court postponed the hanging again after one of the convicts-Pawan Gupta filed a mercy petition before President Ram Nath Kovind. The President rejected his petition on March 4, paving the way for the hanging of all four convicts. This was the last mercy petition, as the President had previously rejected the mercy petitions filed by the other three convicts. All four convicts will be hanged together.