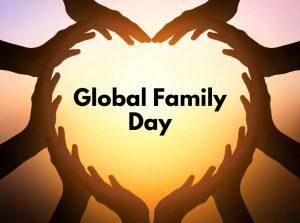 Global Family Day 2023:
Global Family Day is celebrated on January 1, each year. The day creates a sense of unity, community and brotherhood across nations and cultures through the idea of families. This day is celebrated to discourage unwarranted negative attitudes towards other cultures, nations, which may breed hatred, encourage social aloofness and lead to violence. The day highlights the need for all nations to exist in harmony, regardless of cultural or religious differences. The day highlights the importance of family and urges the extension of the idea to a universal scale.
Buy Prime Test Series for all Banking, SSC, Insurance & other exams
Global Family Day: History
Global Family Day had its origins in two books. The first was a 1996 children's book named 'One Day in Peace, January 1, 2000,' by American authors Steve Diamond and Robert Alan Silverstein. The story imagines an ideal scenario where the entire world decides to work together to create a peaceful and prosperous planet Earth.
The other book was American peace activist and author Linda Grover's 1998 utopian novel 'Tree Island: A Novel for the New Millennium.' Grover, in particular, spent over a decade to establish January 1 as a global day of peace. She passed away on February 10, 2010.
January 1 was chosen by Linda Grover as it was the date mentioned in Diamond and Silverstein's 'One day in peace' book, as the day on which the entire world joins hands together to co-exist in harmony.
It was 1999 when members of the United Nations were invited to organise a celebration of Global Family Day on January 1, as mentioned in the book 'One Day in Peace.' While the annual celebrations of Global Family Day did not begin on January 1, 2000, as mentioned in Silverstein's novel, it began a year later and has continued ever since.
Global Family Day also coincides with the World Day of Peace. The latter was established in 1967 and is celebrated annually by the Catholic Church.
You may also read: