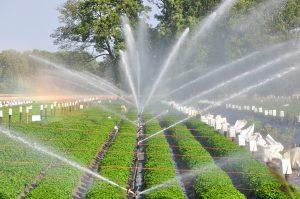 The Government of India has allocated Rs 4000 crore to the State Governments under under 'Per Drop More Crop' component of Pradhan Mantri Krishi Sinchayee Yojana (PMKSY- PDMC) for the year 2020-21. The annual allocation of the fund will be distributed to the beneficiaries identified by the State Governments.
Click Here To Get Test Series For SBI PO 2020
The PMKSY-PDMC envisages to enhance water use efficiency at farm level with the application of Micro Irrigation technologies such as Drip and Sprinkler irrigation systems. Apart from water saving, the Drip micro irrigation technique also helps in reducing fertilizer usage, labour expenses and other input costs.
To expand the coverage of Micro Irrigation in the states, a Micro Irrigation Fund corpus of Rs 5000 crore has been created with National Bank for Agriculture and Rural Development (NABARD). It will also incentivise micro irrigation beyond the facilities available under PMKSY-PDMC to encourage farmers to install micro irrigation systems.