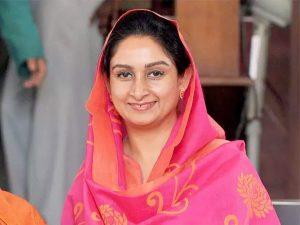 Union Minister of Food Processing Industries Harsimrat Kaur Badal has launched the– Market Intelligence and Early Warning System (MIEWS) Web Portal. The portal can be accessed at http://miews.nafed-india.com.
The MIEWS Dashboard and Portal is a 'first-of-its-kind' platform for 'real-time monitoring' of prices of tomato, onion and potato (TOP) and for simultaneously generating alerts for intervention under the terms of the Operation Greens(OG) scheme. The portal would disseminate all relevant information related to TOP crops such as Prices and Arrivals, Area, Yield and Production, Imports and Exports, Crop Calendars, Crop Agronomy, etc in an easy to use visual format.
The salient features of the MIEWS portal include:
A dashboard that would indicate the low price and high price alerts as well as price forecasts for 3 months forward.
Prices and arrivals of TOP crops across the country including interactive charts and comparisons with previous seasons.
Area, Yield and Production of TOP crops.
Crop Agronomy and Trade Profile of each of the TOP crops.
Regular and special reports on the market situation of the TOP crops. The portal will have public and private sections into which the aforementioned features would be divided. Sections like Prices and arrivals, Area, yield and production, Crop Agronomy and Trade Profile would be accessible to the public while the regular and special market intelligence reports and price forecasts would be accessible only to the policymakers.
OPERATION GREENS SCHEME
In the budget speech of Union Budget 2018-19, a new Scheme "Operation Greens" was announced on the line of "Operation Flood", with an outlay of Rs.500 crores to promote Farmer Producers Organizations (FPOs), agri-logistics, processing facilities and professional management. Accordingly, the Ministry has formulated a scheme for integrated development of Tomato, Onion and Potato (TOP) value chain.