India is in the process of finalizing a significant defense deal with the United States. According to reliable sources, the agreement involves the purchase of 31 MQ-9B Unmanned Aerial Vehicles (UAVs) from General Atomics (GA). This deal is expected to enhance India's military capabilities significantly.
Key Points:
Agreement Details
India is set to acquire 31 MQ-9B UAVs from GA, with deliveries starting from February 2027, three years after the contract's signing.
The deal's estimated cost is $3,072 million, and it follows the U.S. Foreign Military Sales (FMS) route.
Division Among Forces
The 31 drones are allocated for different branches of the Indian military: 15 for the Indian Navy and 8 each for the Indian Army and Air Force.
Approval Process
In June, the Ministry of Defence approved the acquisition, sending a Letter of Request (LoR) to the U.S. government.
The U.S. will respond with a Letter of Offer and Acceptance (LOA), which will detail the equipment and terms of procurement under the Foreign Military Sales (FMS) program.
Facility in India
General Atomics plans to establish a Maintenance, Repair, and Overhaul (MRO) facility in India.
While the exact location is not confirmed, Bengaluru is a likely choice.
Final Approval Steps
The U.S. Congress will be notified about the sale, a standard procedure.
The deal will then need approval from India's Cabinet Committee on Security before becoming official.
MQ-9B Drone Capabilities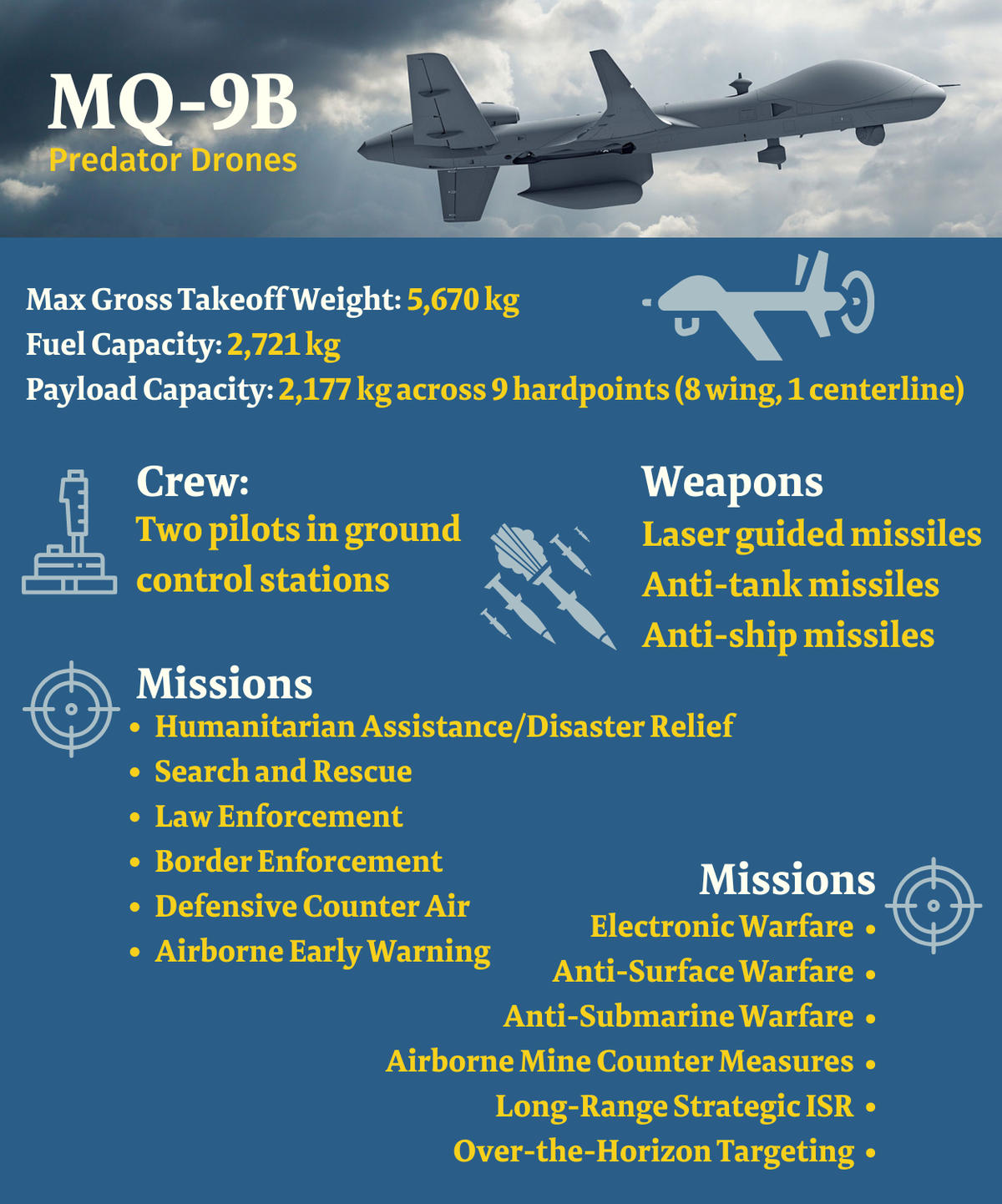 These drones, in Sky Guardian and Sea Guardian variants, offer enhanced Intelligence, Surveillance, and Reconnaissance (ISR) capabilities for the Indian armed forces.
They can fly at long ranges, communicate via satellite for up to 40 hours, operate in diverse weather conditions, and safely integrate into civil airspace.