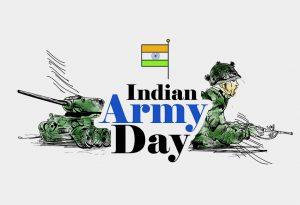 Indian Army Day is observed on January 15 in India every year. This year 72nd Army Day is being celebrated across the country. This day celebrated every year to commemorate the day when General (later Field Marshal) KM Carriappa took over the command of Army from General Sir F R R Bucher the last British Commander-in-Chief in 1949 and became the first Commander-in-Chief of Indian Army post Independence.
The Army Day is celebrated at all Army Command headquarters to honour our country's soldiers who set the greatest example of selfless service and brotherhood, and above all, love for the country. The Indian Army is one of the most powerful militaries of the world, competing with superpowers like the US, Russia and China.
The motto of the Indian Army is 'service before self' and its mission is to ensure national security and national unity, defend the nation from external aggression and internal threats, and maintain peace and security within its borders. Salute to the brave soldiers, who risk and sacrifice their lives to protect us. Even the Prime Minister of India Lal Bahadur Shastri in 1965 had given the slogan like "Jai Jawan Jai Kisan".
Indian Army has responded to a wide array of national security challenges that are becoming more complex and multi-dimensional and demand utmost dedication, the highest level of proficiency and resilience in dealing with them. Indian Army has the dedication to the motherland by being effective responders during calamities and through the contributions to wider nation-building. Indian Army enjoys a distinctive pride of place in the national mind space.
Important takeaways for all competitive exams:
28th Chief of Army Staff: General Manoj Mukund Naravane.