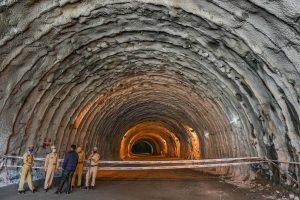 India's longest escape tunnel:
India's longest escape tunnel, which is 12.89 km long constructed on the 111 km under-construction Banihal-Katra railway line in Jammu and Kashmir was completed by the Indian Railways. The longest tunnel is part of the Udhampur-Srinagar-Baramulla Railway Line (USBRL) project. This is the fourth tunnel on the Banihal-Katra route following the 12.75 km tunnel T-49, the longest tunnel of the Indian Railways, which was completed in January this year.
Buy Prime Test Series for all Banking, SSC, Insurance & other exams
About the escape tunnel:
The escape tunnel has been constructed to facilitate rescue work if an emergency situation arises. The tunnel is a modified horseshoe shape tunnel connecting the Sumber Station yard on the Southside and Tunnel T-50 after crossing Bridge no.04 over Khoda Nallah on the North side, at Khoda village.
The tunnel was constructed by the New Austrian Tunnelling Method (NATM), which is a modern technique of drill and blast processes.
The escape tunnel 'T-13' has been constructed to facilitate rescue work in case of an emergency.
This tunnel is a horseshoe shaped tunnel which connects Sumber station yard and tunnel T-50 on the south side after crossing bridge no.04 over Khoda Nala on the north side at Khoda village.
Tunnel T-49 is a twin tube tunnel comprising the main tunnel (12.75 km) and escape tunnel (12.895 kms) connected with 33 cross-passages.
Longest Tunnels in India – Rail and Road Tunnels:
Atal Road Tunnel, Himachal Pradesh – Longest High-Altitude Tunnel  (Length: 8800 meters, or 5.5 miles, approximately.)
Pir Panjal Railway Tunnel, Jammu and Kashmir (Length: 11,215 metres, or 11.22 km.)
Dr Syama Prasad Mookerjee Road Tunnel, Jammu and Kashmir (Length: 9280 metres, or 9.34 km.)
Trivandrum Port Railway Tunnel, Kerala (Length: 9020 metres, or 9.02 km.)
Banihal Qazigund Road Tunnel, Jammu and Kashmir (Length: 8500 meters, or roughly 8.5 km)
Sangaldan Railway Tunnel, Jammu and Kashmir (Length: 8000 meters, or approximately 8 km.)