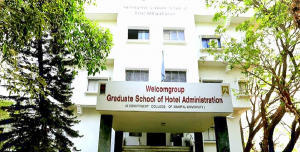 Welcomgroup Graduate School of Hotel Administration (WGSHA) of Manipal Academy of Higher Education (MAHE) entered the Limca Book of Records (LBR) for establishing "India's First Living Culinary Arts Museum" at WGSHA, Manipal, Karnataka. The museum was opened in the year April 2018, spread approximately over 25,000 square feet & the structure of the museum is shaped in the form of a giant pot.
Chef Vikas Khanna, the founder and curator of this museum, who had this idea of establishing a culinary museum and donated thousands of kitchen tools and equipment worth millions of dollars to this museum for preserving the history of India's rich tradition of culinary arts and to educate the future generations.
The Museum consists of historical as well as household items such as plates made by the Portuguese in India, an old seed sprinkler, an ancient Kashmiri tea brewer known as 'samovar', a 100-year-old ladle used to dole out food at temples and bowls dating to the Harappan era. The vessels from the Konkan, Udupi & Chettinad regions, apart from a large collection of rolling pins, utensils of all shapes and sizes, tea strainers of different types etc. are found in the museum.
What is Limca Book of Records?
Limca Book of Records (LBR) is a catalogue of achievements made by Indians, at home and abroad in diverse fields of human endeavour. LBR is a celebration of exemplary exploits and recognizes accomplishments such as firsts, inventions, discoveries, honours, awards and the truly extraordinary.
Find More Miscellaneous News Here