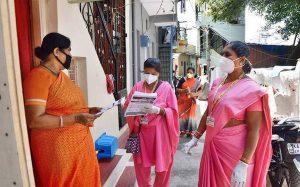 India's one million all-women Accredited Social Health Activists (ASHA) workers, were honoured with the World Health Organisation (WHO) Director-General's Global Health Leaders Award 2022 for their "crucial role" in providing direct access to healthcare facilities in rural areas and their indefatigable efforts to rein in the coronavirus pandemic in the country.
Buy Prime Test Series for all Banking, SSC, Insurance & other exams
WHO Director-General Dr Tedros Adhanom Ghebreyesus announced the 6 awardees of the WHO Director-General's Global Health Leaders Awards. The award recognises the outstanding contributions to advancing global health, demonstrated leadership and commitment to regional health issues.
Other Recipients of the Award:
Dr Paul Farmer was Chair of the Department of Global Health and social medicine at Harvard Medical School and co-founder of Partners in Health.
Dr Ahmed Hankir, a British-Lebanese psychiatrist is a Senior Research fellow at the Centre for Mental Health Research in association with Cambridge University andAcademic Clinical Fellow in Psychiatry at King's College London in the UnitedKingdom.
Ludmila Sofia Oliveira Varela for her work to facilitate access to sports for all providers a healthy alternative to risky behaviours among young people, and tackles the growing threat of non-communicable diseases.
Polio workers in Afghanistan include Mohamamd Zubair Khalazai, NajibullahKosha, Shadab Yosufi, Shareefullah Hemati, Haseeba Omari, Khadija Attaee, MuniraHakimi, Robina Yosufi and Shadab.
Yōhei Sasakawa is the WHO Goodwill Ambassador for Leprosy Elimination, and Japan's Ambassador for the Human Rights of People Affected by leprosy.
About ASHA Workers:
ASHA in Hindi means 'Hope', The ASHA workers are the Indian government's affiliated healthcare workers who are the first point of contact in rural India. They worked to provide maternal care and immunisation for children against vaccine-preventable diseases, community health care, treatment for hypertension and tuberculosis, and core areas of health promotion for nutrition, sanitation, and healthy living. Most of them gained the spotlight during the peak of the pandemic in India for conducting door-to-door checks to trace coronavirus patients.
About WHO Director-General's Global Health Leaders Awards:
The awardees for the WHO Director-General's Global Health Leaders Awards were selected by the Director-General himself. The ceremony for the award, which was established in 2019, was a part of the live-streamed high-level opening session of the 75th World Health Assembly (WHA75) which is being held in Geneva, Switzerland, on 22-28 May 2022.