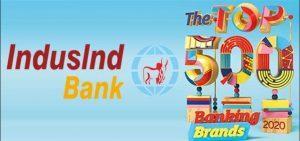 According to 'The Banker's Top 500 Banking Brands 2020' report, IndusInd Bank has topped the list of 'Highest increase in brand value' among global banks. The brand value of Induslnd Bank has increased by 122% over the past 12 months, making it the highest placed for growth in brand value, across the globe. The bank reported total assets of Rs 3.1 lakh crore at the end of Q3 FY20.
As a part of the report, the list "Top 50 By Total Brand Value by Country" has been topped by China, followed by United States (US) at 2nd position while Canada and the United Kingdom (UK) ranked at 3rd and 4th spots. Japan has moved up to the fifth spot. India ranked 8th in this list in comparison to 10th place in 2019. India's brand value is 26,516 $m in 2020 showing an increase of 13% in comparison to 23,409 $m in 2019.
Important takeaways for all competitive exams:
Managing Director & CEO of IndusInd Bank: Romesh Sobti
Headquarter of IndusInd Bank: Mumbai, Maharashtra.
The tagline of IndusInd Bank: We Make You Feel Richer.