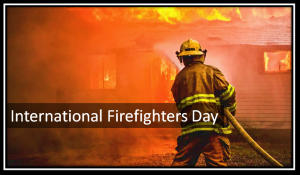 International Firefighters Day is a day dedicated to recognizing and honouring the brave individuals who put their lives on the line every day to save others. These firefighters demonstrate courage, strength, and selflessness as they work tirelessly to protect their communities, often putting themselves in harm's way. On May 4th each year, we have the opportunity to express our gratitude and appreciation for their unwavering commitment to keeping us safe from fires and other hazards.
Buy Prime Test Series for all Banking, SSC, Insurance & other exams
International Firefighters' Day 2023: Significance
The significance of International Firefighters Day lies in its recognition of the exceptional bravery and selflessness of firefighters who put their own safety at risk to protect the public from fires and other emergencies. This day serves as a powerful reminder of their unwavering dedication and sacrifice to their communities. It also highlights the importance of promoting fire safety awareness and ensuring that firefighters are provided with the necessary resources and equipment to effectively carry out their vital responsibilities.
International Firefighters' Day 2023: History
In 1999, International Firefighters Day was established to pay tribute to the courage and sacrifices made by firefighters worldwide. The inspiration for this annual commemoration came from the tragic loss of five Australian firefighters who lost their lives in a wildfire while carrying out their duties. Despite being dispatched for assistance, Jason Thomas, Chris Evans, Gary Vredeveldt, Matthew Armstrong, and Stuart Davidson perished while battling the fire. As a result of this unfortunate incident, International Firefighters Day was created.
Over time, this day has evolved into a global event that celebrates the bravery, resilience, and selflessness of firefighters around the world. It serves as a reminder of the invaluable contributions they make to our communities and their unwavering dedication to protecting lives and property from the dangers of fire.
You may also read this:
World Tuna Day 2023 observed on 2nd May