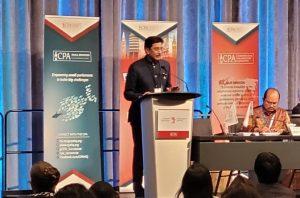 Member of Parliament from the Jhansi-Lalitpur parliamentary constituency, Anurag Sharma has been elected as the International Treasurer of the Parliamentary Association Conference (CPA) at the 65th Commonwealth Parliamentary Association Conference in Halifax, Canada. He will now be on the main Executive Council. The election of Sharma made him the second Indian office-bearer in the world's largest and oldest International Parliamentary Association. His election also meant one more seat was added to India in the CPA, taking the total Indian tally to four executive representatives now.
Bank Maha Pack includes Live Batches, Test Series, Video Lectures & eBooks
Role of Anurag Sharma:
Sharma will be handling annual funding of millions of pounds and the trust funds, ensuring their smooth and effective utilization. He is all set to add that extra mile of ROI (return on investment) and showcase the Indian effectiveness of India in this global responsibility.
About the Commonwealth Parliamentary Association:
The Commonwealth Parliamentary Association (CPA) was founded in 1911 and links parliamentarians and parliamentary staff from over 180 national, state, provincial and territorial parliaments and legislatures from 55 countries of the Commonwealth through its network. Its mission is to promote the advancement of parliamentary democracy by enhancing knowledge and understanding of democratic governance, youth engagement in democracy, gender equality and equal representation.