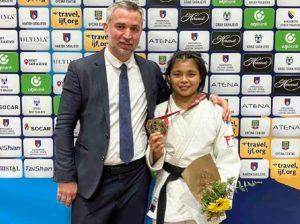 Indian judoka Linthoi Chanambam scripted history by winning India's first-ever medal in Judo World Championships with a gold in the Women's 57kg category at the World Judo Cadet (U18) Championships. The 15-year-old judoka outclassed Brazil's Bianca Reis in the 57-kg category final.
Bank Maha Pack includes Live Batches, Test Series, Video Lectures & eBooks
Career of Linthoi Chanambam:
Linthoi Chanambam became the first Indian judoka to win a medal at any age-group category of the World Championships.
The 15-year-old has been one of the best judokas from India in the past couple of years and is also part of the Indian government's TOPS programme. She came into the spotlight with a gold medal at the Sub-Junior National Judo Championships in 2017 and since then she has been training at JSW's Inspire Institute of Sports judo programme.
Before Friday's historic triumph, Chanambam won the gold medal at National Cadet Judo Championship in 2021 and followed it up with a bronze in the Asia-Oceania Cadet Judo Championship in Beirut, Lebanon.