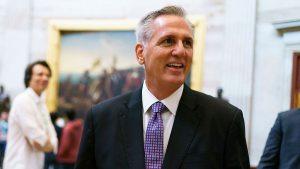 Kevin McCarthy
The United States Parliament has elected Kevin McCarthy of the Republican Party as the speaker of the House of Representatives after 15 rounds of voting. He is the 55th speaker of the US House of Representatives. He was serving as the House Minority Leader in the House. He has replaced Nancy Pelosi, the leader of the Democratic Party in the House of Representatives.
Bank Maha Pack includes Live Batches, Test Series, Video Lectures & eBooks
After the midterm elections held on November 8, the number of members of former President Donald Trump's Republican Party has increased to222 in the 435-member House of Representatives. With this, President Joe Biden's Democratic Party has come in the minority in the House of Representatives. Kevin McCarthy has become thethird most senior US position after US President Joe Biden and Vice President Kamala Harris.
About Kevin McCarthy
Kevin McCarthy is a member of the Republican Party. He was elected as the House Minority Leader from 2019 to 2023. He previously served as the House Majority Leader from 2014 to 2019 under Speakers John Boehner and Paul Ryan. McCarthy has been elected as a member of the US Parliament 9 times. He was born in Bakersfield, California.
McCarthy's Key Concessions and Promises
Throughout the negotiations, McCarthy made a series of concessions and promises
On crucial conservative bills like the balanced budget amendment, congressional term limits, and border security – THe House will hold votes
Call for a motion to vacate the speaker's chair can be moved by any representative.
Restore the Holman rule
Align the nation's debt ceiling with spending cuts.
Increase in Freedom Caucus representation on committees.
Provide a 72-hour review window for bills before they come to the floor of the House.
Build a probe panel for the 'weaponization' of the federal govt.