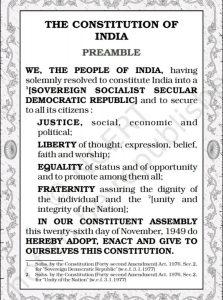 Reading of the Preamble of the Constitution has been made mandatory for the Maharashtra schools by the government of Maharashtra. The Maharashtra government has mandated the reading of Preamble of the Constitution after prayer in all primary and secondary schools in Maharashtra. The above decision will be implemented from 26 January 2020 through a programme "Sovereignty of Constitution, the public interest of all". According to the programme, in every school of Maharashtra, the Preamble of the Constitution will be read by all in a group before the beginning of the classes.
Impact of the decision:
The decision has been taken to make everyone aware and understand the basic principles and the importance of the inclusiveness, justice, equality, liberty and brotherhood mentioned in the Preamble of the Constitution.
Important takeaways for all competitive exams:
Chief Minister of Maharashtra: Uddhav Thackeray; Governor: Bhagat Singh Koshyari.