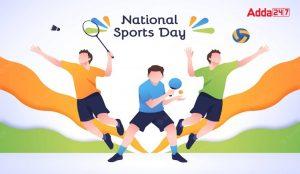 The National Sports Day or Rashtriya Khel Divas is celebrated on 29th August in India as a tribute to hockey legend Major Dhyan Chand who was born on this date in 1905. It was 2012 when the day was first designated and celebrated as India's National Sports Day. The nation celebrates the day honouring our sports stars. The president gives away sports awards such as the Major Dhyan Chand Khel Ratna Award, Arjuna Award, Dronacharya Award, and Dhyan Chand Awards on this occasion.
Bank Maha Pack includes Live Batches, Test Series, Video Lectures & eBooks
Notably: Recently Prime Minister Narendra Modi has announced that Rajiv Gandhi Khel Ratna Award will be renamed as Major Dhyan Chand Khel Ratna Award.
National Sports Day 2022: Significance
Rashtriya Khel Diwas OR National Sports Day's primary motto is to promote awareness about the importance of sports and being physically active in the daily life of all the citizens: older or younger.
National Sports Day: History 
In 1979, the Indian Postal Department paid tribute to Major Dhyan Chand after his death and renamed the National Stadium of Delhi as Major Dhyan Chand Stadium, Delhi. In 2012, it was announced that a day must be celebrated as National Sports Day with the motive of spreading awareness about the spirit of sportsmanship and propagating the message of various sports. And for this again a tribute was given to Major Dhayan Chand on his birth anniversary and announced on 29th August as National Sports Day in India.
About Major Dhyan Chand:
Major Dhyan Chand was born on 29th August 1905, in Allahabad and was a great hockey player of his time. He was known as the star or wizard of a hockey player as during his period, his team gained a hat-trick of gold medals in the Olympics during years- 1928, 1932, and 1936. He played internationally for 23 years from 1926 to 1949. He total played 185 matches in his career and scored 570 goals.
Important and interesting facts about Dhyan Chand:
He was awarded India's third highest civilian honour Padma Bhushan in 1956. His original name was Dhyan Singh.
The nickname 'Chand' got stuck to his name as he used to practise all night in the moonlight (called Chand in Hindi).
He breathed his last on December 3, 1979, in Delhi having slipped into a coma.