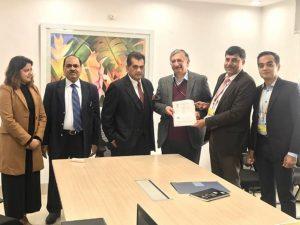 NITI Aayog and Union Territory of Ladakh sign MoU for Development of Infrastructure Projects in Ladakh.  It was signed between NITI Aayog Senior Adviser Dr Yogesh Suri and Adviser to the Lieutenant Governor of Ladakh Umang Narula. The agreement was executed in the presence of NITI Aayog CEO Amitabh Kant.
Under this agreement, NITI Aayog will be supporting the UT's administration through its key initiative 'Development Support Services to States for Infrastructure Projects (D3S-i)'. In an important initiative to promote the development of key infrastructure sectors in the newly constituted Union Territory of Ladakh.
NITI Aayog will identify high-impact projects, It will expedited project implementation, addressing structural-level issues and creating unique models of development for the Union Territory of Ladakh.
The main purpose of D3S-i projects is creating PPP (Public Private Partnership) projects. In 2018, phase I of the project was completed. In phase I, 10 projects were selected from 400 projects that were submitted by the states. In phase II, that was completed in the year 2018-19, the selected projects entered transaction stage.
Preparation activities were carried out:
The think tank also created a techno-economic feasibility report.
A professionals team is to be stationed at Ladakh for identification and development of projects in the UT, especially in tourism, solar energy and basic infrastructure.
The following were other steps taken:
The think tank organized investor consultations for the state governments Integrated post-harvest supply chain management and integrated community-based micro-irrigation infrastructure were generated.
Important takeaways for all competitive exams:
NITI Aayog: National Institution for Transforming India.
NITI Aayog CEO: Amitabh Kant, Vice Chairman: Rajiv Kumar.
Find More News Related to Agreements