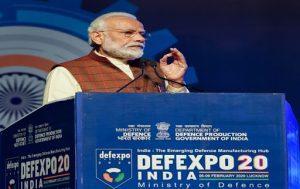 Prime Minister of India Shri Narendra Modi has stated that NDA government set a defense export target of 5 billion dollars in the upcoming five years. The export of defense equipment from India was about 2,000 crore rupees. In the past 2 years, it has gone up to 17,000 crore rupees.
In the upcoming five years, the target is defense export of 5 billion US dollars (approx 35,000 crore rupees). The 11th edition of the mega defense event is being held in Lucknow, Uttar Pradesh. The theme of this event is "India: The Emerging Defence Manufacturing Hub". The five-day DefExpo is being attended by 38 defense ministers and top executives of 172 foreign defense majors and 856 Indian companies in Lucknow.
Important Takeaways for upcoming competitive Exams-
Rajnath Singh is the Union defense minister of India.
Lucknow is the capital city of Uttar Pradesh.
General Bipin Rawat is the current Chief of Defence Staff of India.