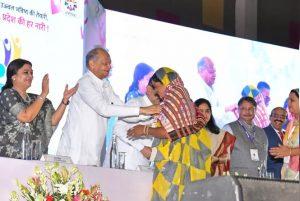 Rajasthan Chief Minister Ashok Gehlot has launched 'Mahila Nidhi', a loan scheme for the social and economic development of women through loans. Under the scheme, apart from everyday necessities, easy credit will be available to women for business expansion and starting new businesses. In the budget 2022-23, the government said it will establish 'Mahila Nidhi' through Rajasthan Rural Livelihood Development Council. Rajasthan is the second state in the country after Telangana, where Mahila Nidhi has been established.
Bank Maha Pack includes Live Batches, Test Series, Video Lectures & eBooks
About the Mahila Nidhi scheme:
Mahila Nidhi has been established to help women self-help groups get loans from banks, increase the income of poor and marginal women, and social and economic progress of women through skill development.
The scheme will facilitate crediting of loans up to Rs 40,000 within 48 hours, and above Rs 40,000 within 15 days.
At present 2.70 lakh self-help groups have been formed in 33 districts of the state connecting 30 lakh families.
In 2022-23, 50,000 self-help groups are proposed to be formed, connecting six lakh families.
A total of 36 lakh families in the state will get benefits from Rajasthan Mahila Nidhi in a phased manner based on their needs.
Important takeaways for all competitive exams:
Rajasthan Governor: Kalraj Mishra;
Rajasthan Capital: Jaipur;
Rajasthan Chief Minister: Ashok Gehlot.