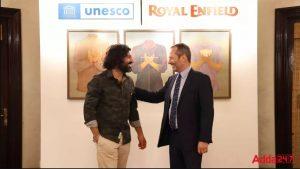 Royal Enfield has partnered with UNESCO (the United Nations Educational, Scientific and Cultural Organisation) to promote and safeguard the 'Intangible Cultural Heritage of India, beginning with the Himalayas. The programme is curated as an experiential and creative showcase of the Intangible Cultural Heritage (ICH) practices in the Western Himalayas and the North Eastern region.
Bank Maha Pack includes Live Batches, Test Series, Video Lectures & eBooks
This includes an exhibition, panel discussions, film screenings, performances and lecture demonstrations. The four-day programme will see eminent artists, designers, chefs, mixologists, musicians, actors, photographers and luminaries of the social development sector such as Adil Hussain, Peter D'Ascoli, Sonam Dubal, Rita Banerji, Mallika Virdi and Tsewang Namgail, Yangdup Lama, Nilza Wangmo and Anumitra Ghosh.
As part of its ongoing programme globally and in India:
UNESCO has been spearheading the movement to identify, document and preserve the Intangible Cultural Heritage of India, which is one of the 178 countries to have adopted the 2003 UNESCO Convention for the Safeguarding of the Intangible Cultural Heritage (ICH), for decades.
Both parties also state that the Intangible cultural heritage is directly linked to livelihoods. For instance, large numbers of women in rural India are engaged in weaving and the production of handicrafts, and India's handloom and crafts sector have emerged as one of the country's largest employers and facilitators for income generation in rural areas.
What is the agenda of UNESCO?
The 2030 Agenda for Sustainable Development recognizes that culture can contribute to economic growth, sustainable consumption and production, and the growth of sustainable settlements. Today, 14 elements from India are inscribed on UNESCO's Representative List of the Intangible Cultural Heritage of Humanity. Royal Enfield's aims at partnering with 100 Himalayan communities to adopt sustainable living practices by 2030.
Important takeaways for all competitive exams:
Royal Enfield CEO: 

B. Govindarajan (18 Aug 2021–);

Royal Enfield Headquarters: 

Chennai;

Royal Enfield Founded: 

1955;

Managing Director and CEO of Eicher Motors: Siddhartha Lal;
Royal Enfield Parent organization: 

Eicher Motors.
Find More News Related to Agreements