Savitribai Phule Biography
Savitribai Phule was a Maharashtrian poet, educator, social reformer, and teacher. She made a significant contribution to advancing women's rights in India along with her husband, Jyotiba Phule in Maharashtra. Savitribai Phule is credited with founding the feminist movement in India. At Pune, near Bhidewada, Savitribai Phule and Jyotiba started one of the first early modern Indian girls' schools in 1848. Savitribai Phule worked to abolish prejudice and unjust treatment of people based on their gender and caste.
Buy Prime Test Series for all Banking, SSC, Insurance & other exams
Christian missionaries did, however, establish some schools for girls in India throughout the 19th century. Robert May of the London Missionary Society was the first to do so in the Bengali district of Chinsurah in 1818. At Bombay and Ahemadnagar, American Christian missionaries started some schools. Jyotiba Phule was inspired by the latter girl's schools to start a girl's school in Poona.
Savitribai Phule attended Cynthia Farrar's school in Ahmednagar, where she took a course for teacher training, and the Normal School in Poona, both run by American christian missionaries.
Savitribai Phule Birth and Early Life
Savitribai Phule was born on January 3rd, 1831 in the Maharashtrian village of Naigaon in the Satara District. Her birthplace is 50 kilometres from Pune and 15 kilometres from Shirval. The youngest daughter of Mali Community members Lakshmi and Khandoji Nevase Patil was Savitribai Phule. Her siblings number three.
Savitribai Phule Family
Around the age of nine or ten, Savitribai wed her spouse Jyotirao Phule (he was 13). There were no biological children born to Savitribai and Jyotirao. They allegedly adopted Yashawantrao, a Brahmin widow's son. Nevertheless, there is currently no original data to back this up. It is stated that because Yashwant was born to a widow, no one wanted to offer him a female when he was going to get married. So, in February 1889, Savitribai organised his marriage to Dynoba Sasane, a member of her group.
Savitribai Phule Education
At the time of her marriage, Savitribai Phule had no formal education. Together with working on their farm, Jyotirao schooled Savitribai and Sagunabai Shirsagar, his cousin sister, in their residence. Savitribai Phule received her primary education from Jyotirao, and his friends Sakharam Yeshwant Paranjpe and Keshav Shivram Bhavalkar were in charge of her secondary education. She also enrolled in two teacher-training programmes, the first of which was at a Cynthia Farrar-run institution in Ahmednagar and the second at a Normal School in Poona. With her education, Savitribai Phule might have been the first female headmistress and teacher in India.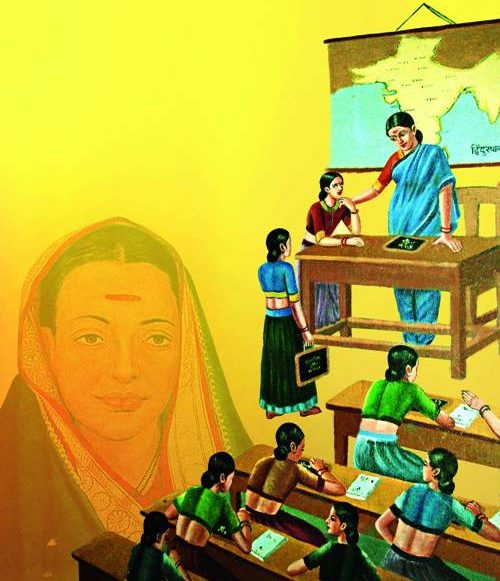 Savitribai Phule Life and Career
Savitribai Phule began instructing girls in Poona after completing her teacher training. She did this with the assistance of Sagunabai Kshirsagar, the sister of Jyotiba Phule, a revolutionary feminist and Jyotirao's mentor. Soon after starting to work as Sagunabai's assistants, Savitribai, Jyotirao Phule, and Sagunabai opened their own school in Bhide-wada. Tatya Saheb Bhide, who lived in Bhidewada, was motivated by the work the trio was doing. Math, physics, and social studies were all part of the traditional western curriculum at Bhidewada.
Savitribai Phule in Pune
Savitribai and Jyotirao Phule were in charge of three different ladies' schools in Pune by the end of 1851.
There were roughly 150 students enrolled among the three institutions.
The three schools used different teaching strategies from those used in government schools, much like the curriculum did.
The Phule methods, according to author Divya Kandukuri, were thought to be better to those employed by government schools.
Because to this reputation, more girls attended the Phule schools than boys did, compared to the number of boys enrolled in public schools.
Sadly, the conservative locals in the area were very hostile to Savitribai and Jyotirao Phule's achievement.
According to Kandukuri, Savitribai frequently carried an additional sari to school because she would face harassment from her conservative opponents who would throw stones, manure, and insults at her.
At Jyotirao Phule's father's house were Savitribai and Jyotirao.
But, in 1839, Jyotirao's father pleaded with him to put an end to this project or leave his house because the orthodox members of his society threatened to shun him or because author Divya Kandukari's work was viewed as a sin according to the Manusmriti and its associated Brahmanical writings.
Savitribai Phule after relocation
The Phule family relocated from Jyotirao's father's house to live with Usman Sheikh's family, one of Jyotirao's pals.
There, Savitribai met Fatima Begum Sheikh, who she would later become close with and work with. Nasreen Sayyed, a renowned expert on Sheikh, claims "As someone who could already read and write, Fatima Sheikh was urged to enrol in the teacher training programme by her brother Usman, a friend of Jyotiba.
Savitribai and she both attended the Normal School together, and they both graduated at the same time. She was India's first Muslim female teacher ".
In 1849, Fatima and Savitribai established a school at the Sheikh's house. Savitribai and Jyotirao Phule founded two educational trusts in the 1850s.
The Native Male School in Pune and the Association for Advancing the Education of Mahars, Mangs, and Other Groups were their names.
These two trusts eventually included numerous schools under the direction of Savitribai Phule and then Fatima Sheikh.
Subhas Chandra Bose Biography, Death, Education and History
Poetry and Work of Savitribai Phule
Savitribai Phule also wrote poetry and prose. She also released a poem titled "Go, Obtain Education" in which she urged those who are oppressed to free themselves by getting an education. She published Kavya Phule in 1854 and Bavan Kashi Subodh Ratnakar in 1892. She developed became a fervent feminist as a result of her experiences and efforts.
To promote awareness of issues relating to women's rights, she founded the Mahila Seva Mandal. She also demanded that there be a space where women may congregate that was devoid of any form of caste-based prejudice. The requirement that every woman in attendance sit on the same mat served as a symbol of this. She advocated against infanticide as well.
She established the House for the Prevention of Infanticide, a women's refuge where Brahmin widows could safely give birth to their children and leave them there if they preferred. She advocated for widow remarriage and ran a campaign against child marriage. Savitribai and Jyotirao established a home for widows and abandoned children in opposition to Sati Pratha.
Vinayak Damodar Savarkar Biography, History, Books and Date of Birth
Savitribai Phule Death
When the bubonic plague emerged in the region of Nalasopara in 1897, Savitribai and her adoptive son, Yashwant, built a clinic to treat individuals who were impacted by it. The facility was built in an infection-free environment on the western suburbs of Pune. Savitribai sacrificed her life heroically in an effort to save Pandurang Babaji Gaekwad's son. Savitribai Phule went to Gaekwad's son's side and transported him to the hospital after learning that he had contracted the plague in the Mahar hamlet outside of Mundhwa. Savitribai Phule contracted the plague during this process and passed away at 9:00 pm on March 10, 1897.
Also Read: Narendra Modi Biography, Age, Full Name, Family, Wife, Qualification, Net Worth, Twitter
Find More Miscellaneous News Here