Vinayak Damodar Savarkar Biography
Vinayak Damodar Savarkar, also referred to as Veer Savarkar, was a writer, activist, and politician in India. While detained at Ratnagiri in 1922, Savarkar created the Hindu nationalist political theory known as Hindutva. Vinayak Damodar Savarkar held a position of prominence in the Hindu Mahasabha. When he authored his autobiography, he started adopting the honorific prefix Veer, which means "brave."
Buy Prime Test Series for all Banking, SSC, Insurance & other exams
Vinayak Damodar Savarkar Family
Vinayak Damodar Savarkar was born on May 28, 1883 in the Marathi Chitpavan Brahmin Hindu household of Damodar and Radhabai Savarkar in the village of Bhagur, close to the city of Nashik, Maharashtra. Vinayak Damodar Savarkar also had a sister named Maina and two additional siblings named Ganesh and Narayan.
Vinayak Damodar Savarkar: Early Life
Savarkar started his activity when he was a senior in high school.
After Hindu-Muslim riots, when Vinayak Damodar Savarkar was 12 years old, he led other pupils in an attack on the mosque in his village, declaring: "We damaged the mosque to our heart's delight."
Along with his older brother Ganesh Savarkar, Vinayak Damodar Savarkar established the Mitra Mela in Nashik in 1903; this clandestine revolutionary group later changed its name to Abhinav Bharat Society.
The fundamental goals of Abhinav Bharat were the abolition of British rule and the revival of Hindu pride.
Vinayak Damodar Savarkar, also known as Vir or Veer, was a prominent member of the Hindu Mahasabha ("Great Society of Hindus"), a political party and organisation that promotes Hindu nationalism. Savarkar was born in Bhagur, India, on May 28, 1883, and passed away in Bombay (currently Mumbai), on February 26, 1966.
Vinayak Damodar Savarkar Date of Birth
Vinayak Damodar Savarkar was born on May 28, 1883 in the village of Bhagur, close to the city of Nashik, Maharashtra.
Vinayak Damodar Savarkar History
Vinayak Damodar Savarkar assisted in training a cadre of Indian revolutionaries in sabotage and assassination techniques that allies of his had reportedly learned from Russian exile revolutionaries in Paris while Savarkar was a law student in London (1906–10).
Vinayak Damodar Savarkar wrote The Indian War of Independence, 1857 (1909) at this time, in which he expressed the opinion that the Indian Mutiny of 1857 was the first manifestation of widespread Indian resistance to British colonial control.
Savarkar was detained in March 1910 and extradited to India where he was tried and found guilty on a number of subversion and inciting to war-related charges.
He was sentenced to "life" in prison on the Andaman Islands after being found guilty in a second trial of his suspected involvement in the murder of a British district magistrate in India.
In 1921, he was returned to India, and in 1924, he was freed from custody.
Vinayak Damodar Savarkar began touring extensively after 1937, developing into a persuasive orator and writer who promoted Hindu political and social unity.
He presided over Mumbai's Marathi Sahitya Sammelan in 1938. Savarkar supported the notion of India as a Hindu Rashtra while serving as the president of the Hindu Mahasabha (Hindu Nation).
When Muslims "woke from their day-dreams of Pakistan," Savarkar promised the Sikhs, "they would see a Sikhistan in the Punjab."
Savarkar sought to rely on the Sikhs in the Punjab to create a Sikhistan in addition to talking about Hinduism, the Hindu Nation, and the Hindu Raj.
Savarkar lived in Ratnagiri up until 1937, when he joined the Hindu Mahasabha, an organisation that aggressively upheld Hindu claims of religious and cultural superiority over Indian Muslims.
For seven years, he presided over the Mahasabha.
Vinayak Damodar Savarkar retired to Bombay in 1943.
Savarkar was blamed for the 1948 murder of Mohandas K. Gandhi by a former Mahasabha member; however, there was insufficient proof to convict him at his later trial.
After both were wiped out by the Indian National Congress in 1939, Vinayak Damodar Savarkar made a deal with the Muslim League. Savarkar agreed with the two-nation notion as well. He openly disagreed with the Congress working committee's 1942 Wardha session decision to adopt a resolution that instructed the British colonial authority to "Quit India but Keep Your Armies Here" in order to protect India from a potential Japanese invasion.
Vinayak Damodar Savarkar resigned from his position as president of the Hindu Mahasabha in July 1942 because he needed some rest and felt overworked from carrying out his duties. The resignation occurred at the same time as Gandhi's Quit India Movement. Savarkar was accused of being a co-conspirator in the murder of Mahatma Gandhi in 1948, but the court exonerated him for a lack of proof.
Vinayak Damodar Savarkar Later Life
Savarkar's residence in Dadar, Bombay, was stoned by enraged mobs following Gandhi's murder. Savarkar was detained by the government for giving "Hindu nationalist lectures" after being cleared of the charges relating to Gandhi's killing and released from jail; he was eventually freed in exchange for giving up his political activity. Vinayak Damodar Savarkar went on to discuss Hindutva's social and cultural components.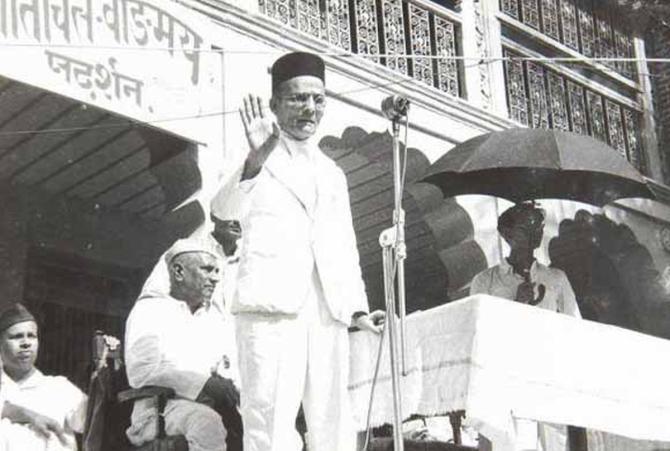 After the prohibition was lifted, he continued his political activism, though it was limited until his death in 1966 due to poor health. Vinayak Damodar Savarkar criticised B. R. Ambedkar's conversion to Buddhism in 1956, calling it a "useless act," to which Ambedkar openly questioned Savarkar's use of the label "Veer."
Narendra Modi Biography, Age, Full Name, Family, Wife, Qualification, Net Worth, Twitter
Vinayak Damodar Savarkar Death
Yamunabai, Savarkar's wife, passed away on November 8th, 1963.
Vinayak Damodar Savarkar renounced food, water, and medications on February 1, 1966, a day he referred to as atmaarpan (fast until death).
In an article titled "Atmahatya Nahi Atmaarpan," which he published before passing away, he made the case that it is preferable to terminate one's life on one's terms rather than waiting till one dies when one's life's purpose has been fulfilled and one is no longer able to benefit society.
Efforts to revive him failed, and Vinayak Damodar Savarkar was pronounced dead at 11:10 a.m. on February 26, 1966, at his home in Bombay (now Mumbai).
His condition was described as having grown "very critical" before his death. Vinayak Damodar Savarkar had requested his family to perform solely his burial and forgo the Hindu rites for the 10th and 13th days before he passed dead. As a result, his son Vishwas conducted his final rituals the following day at an electric crematorium in Bombay's Sonapur neighbourhood.
Subhas Chandra Bose Biography, Death, Education and History
Vinayak Damodar Savarkar Books
He wrote Hinditva: Who Is a Hindu? (1923) while incarcerated and popularised the term Hindutva ("Hinduness"), which sought to characterise Indian culture as a manifestation of Hindu values. This idea later developed into a central tenet of Hindu nationalist ideology.