In the latest edition of the Kantar BrandZ Top 75 Most Valuable Indian Brands Report for 2023, Tata Consultancy Services (TCS) has retained its prestigious position at the top of the list with an impressive brand value of $43 billion. This article delves into the key findings and rankings of the report, shedding light on the Indian brands that continue to thrive despite economic challenges.
The Top 10 Brands in the 2023 Report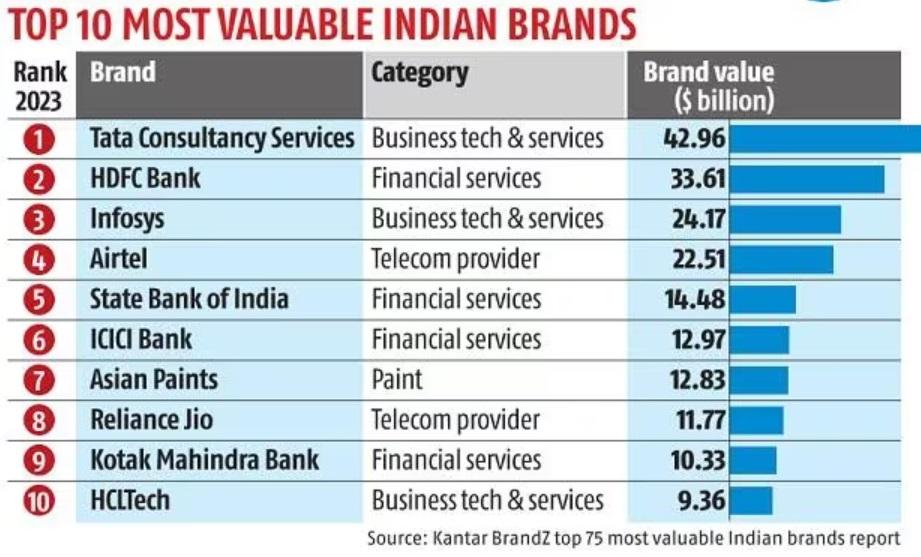 TCS continues to demonstrate its dominance in the Indian market, maintaining its top spot with a remarkable brand value of $43 billion. The company's consistent performance and global presence have solidified its position as India's most valuable brand.
HDFC Bank, a stalwart in the Indian banking sector, retains its second-place ranking. Its unwavering brand strength and customer trust contribute to its brand value.
Infosys, a tech industry titan, maintains its third position in the rankings. Its strong focus on innovation and digital transformation has ensured its enduring presence among India's top brands.
Airtel, a leading telecom provider, secures the fourth spot. Its continued investment in network infrastructure and customer-centric approach contribute to its brand's resilience.
State Bank of India makes a notable entry into the top five, underscoring its significance as a financial institution in India. Its brand strength and reach across the nation are key factors in this achievement.
ICICI Bank retains its prominence in the top 10, underscoring its significance in the financial sector. Customer trust and innovative banking solutions are driving its brand value.
Asian Paints, a leader in the paint industry, maintains a strong presence in the top 10. Its commitment to quality and innovation has earned it a place among India's most valuable brands.
Reliance Jio, a disruptor in the telecom sector, secures a position in the top 10. Its affordable data plans and expansive network coverage have reshaped the Indian telecom landscape.
Kotak Mahindra Bank's consistent performance keeps it in the top 10. Its customer-centric approach and financial services offerings contribute to its brand's strength.
HCL Technologies rounds up the top 10. Its prowess in providing IT services and solutions has established it as a significant player in the technology sector.
Kantar BrandZ  Most Valuable Indian Brands Report 2023
The 2023 ranking is based on the opinions of over 127,634 respondents who evaluated 1,500 brands across 106 categories. This extensive survey provides valuable insights into the perceptions and preferences of Indian consumers.
In conclusion, despite economic challenges and global uncertainties, Indian brands continue to demonstrate their resilience and strength in the market. TCS's consistent reign at the top, along with the performance of other leading brands, underscores India's diverse and thriving business landscape.
Find More Ranks and Reports Here