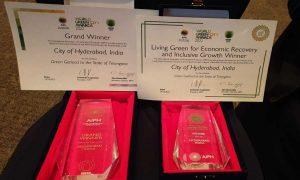 The city of Hyderabad, Telangana, has been honoured as the Grand winner of the AIPH (International Association of Horticultural Producers) World Green City Awards 2022, the most prestigious award of the Inaugural AIPH World Green City awards (2022 edition), for its initiative titled "Green Garland to the State of Telangana". Hyderabad also won the award under the 'Living Green for Economic Recovery and Inclusive Growth' category.
Bank Maha Pack includes Live Batches, Test Series, Video Lectures & eBooks
Why the award was given to Hyderabad?
Hyderabad has been awarded for its initiatives relying on greater use of plants and nature to create better city environments and helps fulfil local aspirations for improved economic, social and environmental resilience.
The award acknowledged Telangana's programme of 'Telangana Ku Haritha Haram's large­scale tree­planting program taken up from 2015-­2016.
The program aims to increase the tree cover of the state from 24% to 33% of total area of the state.
About the AIPH World Green City awards 2022 :
AIPH World Green City awards (2022 edition) are the world's first Green City awards. AIPH announced the 6 Category Winners and the Grand Winner during the award ceremony that took place at the gala dinner at the International Union for Conservation of Nature (IUCN) Leaders Forum in Jeju Province of the Republic of Korea(South Korea) on 14th October 2022.
Other Awards: 6 Category-wise winners
Category 
Winners
Living Green for Economic Recovery and
Inclusive Growth
Green Garland to the State of
Telangana,
City of Hyderabad, India
Living Green for Biodiversity
Reverdecer Bogotá,
Bogota D.C, Colombia
Living Green for Climate Change
Mexico City's Environmental and Climate
Change Program,
Mexico City, Mexico
Living Green for Health and Wellbeing
Transforming degraded land into Urban
Micro Parks,
City of Fortaleza, Brazil
Living Green for Water
The Phytotechnology Stations at the
Montréal Botanical Garden / Space for
Life,
City of Montreal, Canada
Living Green for Social Cohesion
OASIS Schoolyard Project,
City of Paris, France