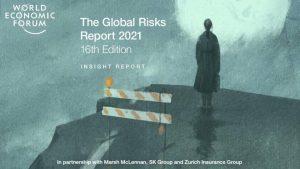 The World Economic Forum (WEF) has released the Global Risks Report 2021, 16th Edition. The findings of the report are based on the Global Risks Perception Survey (GRPS) undertaken by over 650 members of WEF's diverse leadership communities. The Report is prepared with Strategic Partners, Marsh McLennan in Partnership with SK Group and Zurich Insurance Group.
The report is being released before WEF's upcoming virtual Davos Agenda scheduled to be held between January 25-29, 2021. The main objective behind the publishing of the report is to enable better preparation by Government & other International Communities during the times of crisis.
WARRIOR 4.0 | Banking Awareness Batch for SBI, RRB, RBI and IBPS Exams | Bilingual | Live Class
i. The Survey respondents also assessed Individual Global Risks based on Likelihood & Impact
The Top 3 Risks by Likelihood (Very Likely to happen in the next 10 years) are Extreme Weather, Climate Action Failure & Human Environmental Damage.
The Top 3 Risks by Impact (amount of impact they are expected to create) are Infectious diseases, Climate Action Failure & Weapons of mass destruction.
ii. Widespread Effects:
COVID-19 has brought a major change in the 2021 rankings compared to Global Risks Report Rankings of 2020.
In 2020, Infectious diseases were ranked 10th in the list of most critical threats.
COVID-19 has caused both widespread losses of life & delay of economic development in poorest parts of the world, thus amplifying wealth inequalities across the world.
iii. Climate Concerns:
Even though carbon emissions have seen a decline due to lockdown & disruption due to Lockdown, they are expected to increase when the recovery process starts.
iv. Process to Counter Risks:
The report has stated the Global Communities to draw lessons from the responses to COVID-19 to boost the Global Resilience in future.
This includes formulating Analytical Frameworks, Creating new forms of partnerships and Building trust through clear & consistent communication.
Important takeaways for all competitive exams:
World Economic Forum Founder and Executive Chairman: Klaus Schwab.
World Economic Forum Headquarters: Cologny, Switzerland.
Find More Ranks and Reports Here