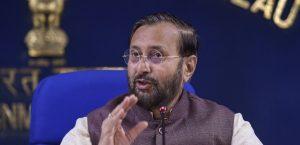 Union Environment Minister Prakash Javadekar has stated that Sanitary napkin makers will be asked to supply a biodegradable bag with each napkin from January 2021. The possibility of getting infected because of handling used Sanitary Napkins thrown in the garbage was brought to notice by many of the women garbage collectors. That's why Environment Ministry has taken the decision to ask Makers of Sanitary Napkins to provide biodegradable bags so that Napkins can be wrapped in these bags before being thrown in the garbage.
Javadekar announced that the sanitation norms for Corporations and municipalities will now be applied to villages with a population of more than three thousand.
Most Important Takeaways for Upcoming Competitive Exams:
Prakash Javadekar is present Union Minister of Environment, Forest and Climate Change, Union Minister of Information & Broadcasting and Heavy Industries & Public Enterprises.
Prakash Javadekar is Rajya Sabha MP from Maharashtra.