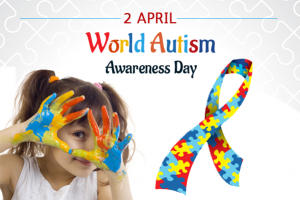 World Autism Awareness Day observed globally on 2 April every year. This year is the 13th annual World Autism Awareness Day. This day is observed to highlight the need to improve the quality of life of those with autism so they can lead full and meaningful lives as an integral part of society. The very first World Autism Day was observed in the year 2008 on April 2. 
Click Here To Get Test Series For SBI PO 2020
This year the World Autism Awareness Day 2020 Theme is 'The Transition to Adulthood'. This theme draws attention to the adulthood of people with autism.
What is Autism?
Autism, or autism spectrum disorder (ASD), refers to a broad range of conditions characterized by challenges with social skills, repetitive behaviours, speech and nonverbal communication. Autism is a development disorder. The disorder is characterized by difficulties with social interaction and communication which may also include restricted and repetitive behaviour. The signs of Autism are often noticed by the parents of the child during the first three years. These signs develop gradually.
Important takeaways for all competitive exams:
Secretary-General of the United Nations: Antonio Guterres.