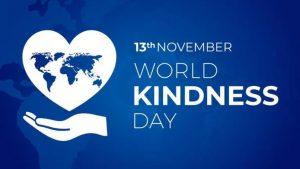 World Kindness Day 2022:
World Kindness Day is celebrated on November 13 every year. The day inspires people to appreciate the kindness and positive power in society. Kindness has no constraints and goes far beyond the feelings of race, religion, politics, and gender. This day help us to move forward in a helpful and kind spirit toward the people. There are many ways in which a person can show kindness toward the other person.
One can be kind to their parents who are providing for you or your teachers who are making you a better human being. People these days celebrate this day by sending messages through social media platforms. It's an international holiday that is observed in many countries including but not limited to the U.S., Canada, Australia, Italy, and India.
Buy Prime Test Series for all Banking, SSC, Insurance & other exams
World Kindness Day 2022: Theme
This year the day is being celebrated with the theme is 'Be kind whenever possible.'
World Kindness Day 2022: Significance
The purpose of World Kindness Day as outlined by the World Kindness Movement is "to highlight good deeds in the community focusing on the positive power and the common thread of kindness which binds us." Since its creation more than two decades ago, the day has achieved truly global notice; events associated with the day have attracted participants from every inhabited continent. These have included activities such as concerts, dance mobs, and the distribution of "kindness cards."
World Kindness Day 2022: History
World Kindness Day commenced in the year 1998 by an organisation named World Kindness Movement during the 1997 Tokyo conference. In 2019, under Swiss law, this organisation was registered as an official NGO. Currently, there are more than 28 nations that are not associated with any religion or political ideology. This international event is celebrated in many countries including Canada, Nigeria, Japan, Australia, and the United Arab Emirates. Along with Singapore, India, and Italy celebrated the day in the year 2009.