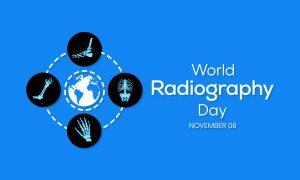 Every year on November 8, World Radiography Day is observed to honour the discovery of X-radiation, also known as X-rays. This day in 1895 saw the completion of German scientist Wilhelm Conrad Rontgen's discovery of X-radiation, or X-rays. For this accomplishment, he was awarded the first Nobel Prize in Physics in 1901. This year, we will be celebrating the 11th International Day of Radiology on 11 November and this is observed by all the medical imaging professionals from across the world.
Buy Prime Test Series for all Banking, SSC, Insurance & other exams
World Radiography Day 2022: Theme
The theme of International Day of Radiology 2022 is "Radiographers at the Forefront of Patient Safety." This theme aims to encourage all radiologists, radiographers, radiological technologists, and professionals to recognize and promote the essential role of radiology in the treatment of a patient.
World Radiography Day 2022: Significance
World Radiography Day celebrates the anniversary of the discovery of X­rays in 1895 and is used as a platform to raise public awareness of radiographic imaging and therapy. Radiographic imaging plays an important role in the diagnosis and the treatment of patients but it is equally crucial that the radiation level is kept to the minimum required so that it improves the health of patients instead of harming them. Thus, WRD is also an opportunity to honor those working with precise accuracy and save thousands of lives every year.
World Radiography Day: History 
According to many sources, the first World Radiography Day was observed in 2007 by the International Society of Radiographers and Radiological Technologists on November 8. however, the first major celebration of the day was organized in 2012 when the European Society of Radiology (ESR), Radiological Society of North America (RSNA), and American College of Radiology (ACR) came together for the initiative. This year will celebrate the 11th anniversary of International Day of Radiology.
X-rays were discovered accidentally in the year 1895 by Professor Wilhelm Conrad Röntgen while he was working with a cathode-ray tube in his laboratory. He noticed a fluorescent glow of crystals on a table near his tube, which contained a bulb with negative and positive electrodes. When the air from the tube was evacuated, a high voltage was applied, and the tube produced a fluorescent glow. When the tube was covered with black paper and that material was placed a few feet away from the tube, it generated a green fluorescent light.
About the Radiology:
Radiology is the medical discipline that uses medical imaging to diagnose and treat diseases within the bodies of animals and humans. A variety of imaging techniques such as X-ray radiography, ultrasound, computed tomography (CT), nuclear medicine including positron emission tomography (PET), fluoroscopy, and magnetic resonance imaging (MRI) are used to diagnose or treat diseases. Interventional radiology is the performance of usually minimally invasive medical procedures with the guidance of imaging technologies such as those mentioned above.