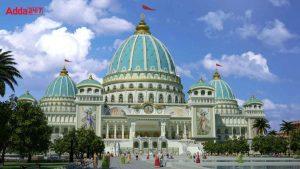 The largest religious monument in the world, the Temple of Vedic Planetarium in West Bengal, which will serve as the headquarters of the International Society of Krishna Consciousness (ISKCON), will also have the world's biggest dome. The Vedic Planetarium will offer guests a tour of the various parts of the cosmic creation.
Bank Maha Pack includes Live Batches, Test Series, Video Lectures & eBooks
The Temple of Vedic Planetarium is ISKCON founder Srila Prabhupada's vision and is apparently inspired by the design of the Capitol building in the United States. Srila Prabhupada stated his preference for the temple's exterior style in July of 1976.
The Temple of Vedic Planetarium is in West Bengal's Mayapur in the Nadia district and, once completed, it will be larger than the Taj Mahal and St. Paul's Cathedral in the Vatican. The temple will open in 2024, following a two-year delay brought on by the COVID-19 pandemic. It will purportedly replace Cambodia's 400-acre-large Angkor Wat temple complex as the largest religious monument.
Find More Miscellaneous News Here