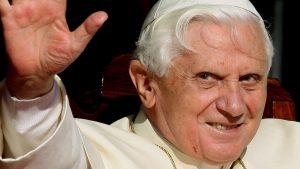 Pope Benedict XVI
Statement released by the Vatican, the former Pope Benedict XVI has passed away  in the Mater Ecclesiae Monastery in the Vatican. He was 95 years old. The head of the Catholic Church, former Pope Benedict, was the first pope in 600 years to resign. He resigned in 2013 and was replaced by the present pope Francis. Pope Benedict was the first German to become pope in 1000 years. He was the head of the Vatican City from 19 April 2005 until his resignation on 28 February 2013. He was born as Joseph Aloisius Ratzinger on April 16, 1927, in the southern German village of Marktl, close to Austria.
Buy Prime Test Series for all Banking, SSC, Insurance & other exams
About the Pope:
Pope is a title which is given to the Bishop of Rome who is the head of the Roman Catholic Church. He is also the head of the sovereign country of Vatican City. Roman Catholics are the largest of the three major branches of Christianity. The other branches of Christianity are Protestants and orthodox (Eastern). The Holy See is the name given to the government of the Roman Catholic Church, which is led by the pope as the bishop of Rome.  St. Peter, disciple of Jesus Christ, was the first Pope. Jesus Christ is the founder of Christianity.
Interesting points about Vatican City:
Vatican City is the world's smallest country which is located within the Italian capital city of Rome.
It is also the least populated country in the world.