Lionel Messi: About
On June 24, 2023, Lionel Messi, the Argentine maestro, celebrated his 36th birthday. He made his debut for the Argentina national team during a friendly match in August 2005. With an impressive collection of seven Ballon d'Or trophies and a World Cup victory, Lionel Messi is widely regarded as one of the greatest players in the history of football.
Leo Messi, also known as Lionel Messi, is an Argentine-born football (soccer) player who has won six FIFA world player of the year awards. His full name is Lionel Andrés Messi. He was born on June 24, 1987, in Rosario (2009–12, 2015, and 2019).
Messi began playing football when he was a young lad and joined the Newell's Old Boys juvenile team in 1995 (a Rosario-based top-division football club). Elite clubs on both sides of the Atlantic were drawn to Messi's extraordinary abilities.
Messi moved to Barcelona with his family when he was 13 years old and started playing for FC Barcelona's under-14 squad. He had 21 goals in 14 games for the youth squad, and he swiftly advanced to higher-level clubs, receiving his first professional contract at the age of 16.
Lionel Messi

has led Argentina into the semifinals of the

FIFA World Cup 2022

which is being held in Qatar.

Messi, who is recognized as one of the all-time best players, has a record seven Ballon d'Or victories, a record six European Golden Shoes, and in 2020, he was selected for the Ballon d'Or Dream Team.
Buy Prime Test Series for all Banking, SSC, Insurance & other exams
Lionel Messi Age and Height
Lionel Messi was born on 24 June, 1987 and his age is 35 years. Lionel Messi is of a short stature and is 1.70 meters tall (5 ft 7 in).
Lionel Messi FIFA World Cup 2022
After Messi criticized match referee Antonio Mateu Lahoz, FIFA took disciplinary action against him. The FIFA disciplinary committee will likely make a statement on the subject soon. Argentina and the Netherlands' quarterfinal matchup was a brutal struggle between two powerful squads. The lack of discipline in the game was evident in a number of incidents involving players and coaches from both teams.
Lionel Messi Retirement
Lionel Messi: Given his age, a major concern for all football fans is if he will retire following the FIFA World Cup. Lionel Scaloni, the coach of Argentina, was evasive about Lionel Messi's future on Monday but said he would "enjoy having him" while he was still competing. Messi, 35, acknowledged prior to the competition that this likely would be his final World Cup.
Deepika Padukone To Unveil FIFA World Cup 2022 Trophy
Lionel Messi Personal Life and Family
Messi has a deep bond with the people in his immediate family, especially his mother Celia, whose image is inked on his left shoulder. His work life is essentially managed as a family business: his older brother, Rodrigo, manages his daily schedule and publicity, and his father, Jorge, has been his agent since he was 14. The Leo Messi Foundation is run by his mother and other brother, Matas, who also handle his personal and professional affairs in Rosario.
Lionel Messi Wife
Messi has been in a relationship with Rosario native Antonela Roccuzzo since 2008. His boyhood best buddy, Lucas Scaglia, a football player, is the cousin of Roccuzzo, whom he has known since he was five years old. Messi initially acknowledged their relationship in an interview in January 2009 after they had kept it a secret for a year. A month later, following the Barcelona-Espanyol derby, they made their relationship public during a carnival in Sitges. Three sons were born to Messi and Roccuzzo: Thiago (born in 2012), Mateo (born in 2015), and Ciro (born 2018). He wed Roccuzzo on June 30, 2017, in Rosario at the opulent Hotel City Center.
Lionel Messi: Career
Over the years, Messi's game continued to advance quickly, and by 2008, he was one of the most dominant players in the world, coming in second place to Manchester United's Cristiano Ronaldo in the voting for the 2008 FIFA World Player of the Year award.
With the club's first "treble"—winning three major European club championships in a single season—Messi closed off an outstanding 2008–09 campaign by assisting FC Barcelona in winning the Champions League, La Liga, and the Copa del Rey. In 51 games that season, he scored 38 goals. He defeated Ronaldo by a record margin in the voting for FIFA World Player of the Year.
Messi scored 34 goals in domestic matches for Barcelona in 2009–10, helping them win La Liga once more. As the top scorer in Europe, he received the Golden Shoe award, and in 2010 he was voted the FIFA Ballon d'Or winner as the world player of the year.
Lionel Messi: Awards
Messi helped Barcelona win the Champions League and La Liga, which helped him win an unprecedented third straight world player of the year award. At the age of 24 in March 2012, he scored his 233rd goal for Barcelona, making him the team's all-time greatest scorer in La Liga games.
Messi broke Gerd Müller's 39-year-old record for the most goals scored in a single season in a major European football league by scoring 73 goals for Barcelona in the 2011–12 campaign (which included another Copa del Rey victory). Messi became the first player to receive the honour four times after his historic season, which earned him the 2012 world player of the year award.
Lionel Messi Stats
Lionel Messi has played 520 games for his former club, Barcelona, and scored 474 goals for the club. After moving to Paris Saint German in 2021, Messi has played 39 games and has scored 13 goals.
In PSG Messi focuses more on his play making to feed assists to the likes of Kylian Mbappe and Neymar Jr.
Lionel Messi spent his entire professional career with Barcelona, retiring from the team in 2021 after winning a club-record 35 trophies there, including 10 La Liga championships, seven Copa del Rey championships, and four UEFA Champions Leagues.
The most goals in La Liga (474), the most goals in a La Liga and European league season (50), the most hat-tricks in La Liga (36) and the UEFA Champions League (8), and the most assists in La Liga (192), a La Liga season (21) and the Copa América belong to prolific goal scorer and talented playmaker Messi (17).
Additionally, he holds the record for the most goals scored outside of South America by a man (95).
Messi has the most goals by a player for a single club with over 750 in his professional career for club and nation (672).
FIFA World Cup Winners List From 1930 To 2022
Lionel Messi: Total Matches Played For Argentina
Lionel Messi has played 170 games and has scored record 95 goals for Argentina in International Games.
Messi was nominated to the 2020 Ballon d'Or Dream Team and has a record seven Ballon d'Or victories, a record six European Golden Shoes, and more.
Lionel Messi led Argentina to the Finals of 2014 World Cup, and Currently will lead against Croatia in the Semi Final of FIFA World Cup 2022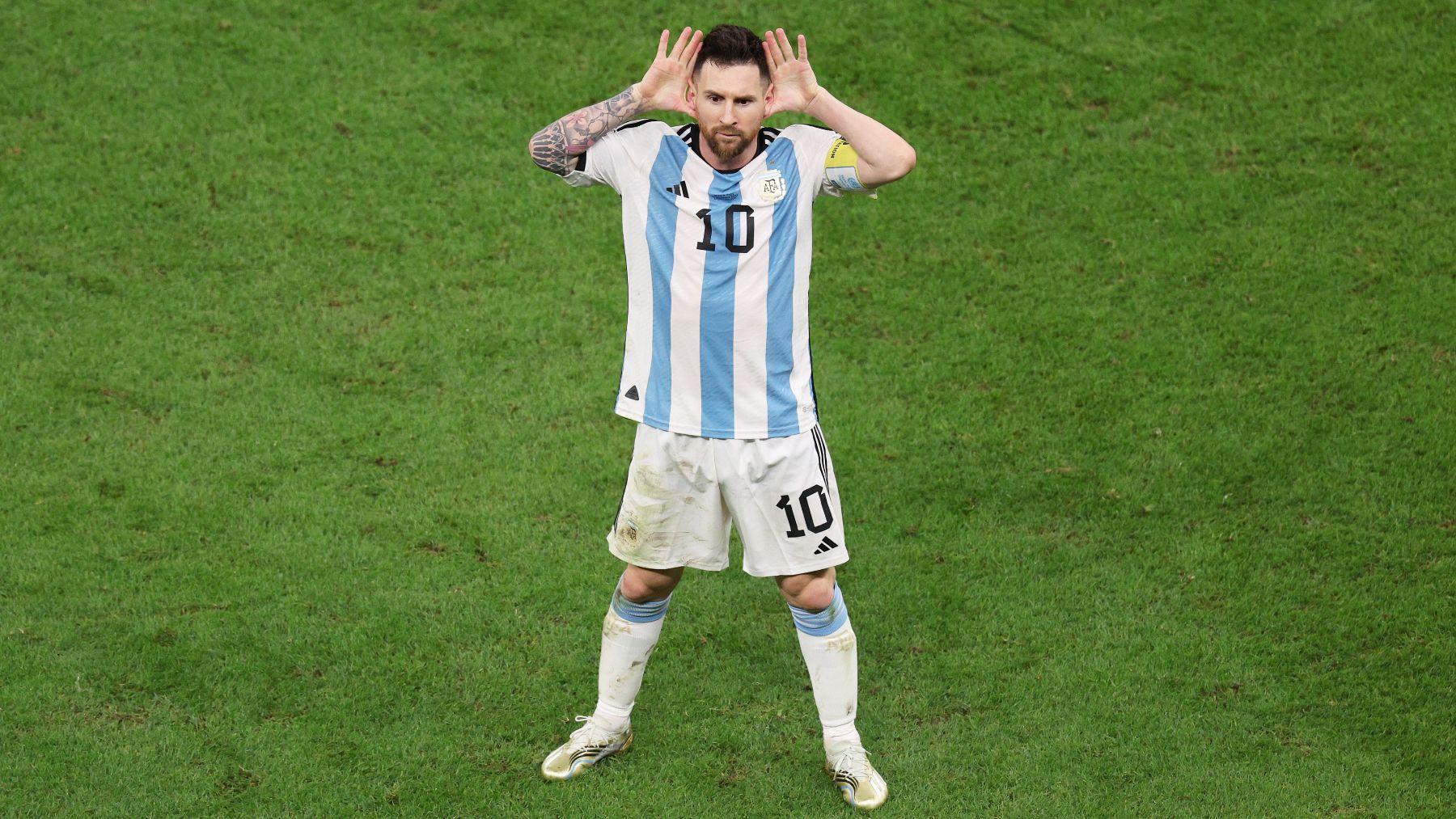 Messi vs Ronaldo
The following table shows the comparison between the two modern greats of football, Lionel Messi and Cristiano Ronaldo:
| | | |
| --- | --- | --- |
| Name | Lionel Messi | Cristiano Ronaldo |
| Current Club | Paris Saint-Germain | Manchester United F.C. |
| Jersey Number | 30 | 7 |
| Playing Position | Right Wing Forward | Left Wing Forward |
| Nationality | Argentina | Portugal |
| Date of Birth | 24 June 1987 (age 35 years) | 5 February 1985 (37 years) |
| Height | 1.70 meters (5 ft 7 in) | 1.85 meters (6 ft 1 in) |
| Weight | 72 kg | 80 kg |
| Career goals | 759 | 804 |
| Appearances | 957 | 1106 |
Cristiano Ronaldo Age, Retirement, Wife, Children, Stats, Net Worth and Biography
Lionel Messi Instagram
Lionel Messi is on Instagram by the insta id @leomessi. Check out his profile below.
Leo Messi (@leomessi) • Instagram photos and videos
Lionel Messi: Controversies
Messi and his father, who was in charge of managing his son's finances, were charged with tax fraud in 2013 and accused of using offshore shell companies to evade paying €4.2 million in Spanish taxes on endorsement income.
The two were were compelled to go to trial in 2016 for the accusations, even after paying the Spanish state €5 million.  Messi and his father were both fined €2 million and €1.5 million in July of that year and given suspended 21-month prison sentences (in Spain, first-time offenders receive suspended sentences if the period is under two years).
Lionel Messi Salary and Net Worth
Messi is one of the most well-known footballer in the world. He has been a very successful brand ambassador, particularly for the sportswear firm Adidas, in addition to earning a football wage that was frequently, together with Ronaldo's, one of the two highest footballer salaries in all professional sports.
Lionel Messi has a salary of nearly $75 million USD. The estimated net worth of Lionel Messi $620 million USD, which makes him the richest footballer on the planet.
Lionel Messi: FAQs
Ques: Who is No 1 Messi or Ronaldo?
Ans: Over the course of his career, Cristiano Ronaldo has scored 804 goals in 1106 games (0.72 goals per game). Meanwhile, in 957 games, Lionel Messi has scored 759 goals (0.79 goals per game). These numbers make it abundantly evident that Messi has a superior goal-scoring record than Ronaldo.
Ques: How much is Messi net worth 2022?
Ans: Lionel Messi is reportedly the richest football player in the world with a net worth of over 620 million US dollars.
Ques: Who has more goals Messi or Ronaldo?
Ans: Overall, Cristiano Ronaldo presently has more goals in his career than Lionel Messi. Messi has scored 796 goals in 1,023 games, compared to Ronaldo's 819 goals in 1,144 games.
Ques: How many World Cups has Messi won?
Ans: Just like Cristiano Ronaldo, Lionel Messi also has not won a single FIFA World Cup yet, but Argentina is in the Semi-final of FIFA World Cup 2022, and has a chance to win it.