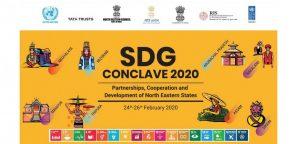 NITI Aayog is organizing Sustainable Development Goals Conclave 2020: Partnerships, Cooperation and Development of North Eastern states in Guwahati, Assam. The event will see representations from the North-Eastern states, Central Ministries, academia, civil society and international development organizations.
The conclave is to focus on SDG localization in the northeastern region. It includes climate adaptive agriculture, sustainable livelihoods, education, health and nutrition, skill development, connectivity, entrepreneurship, infrastructure development. Every session is to chaired by respective field specialist.
NITI Aayog has the mandate of overseeing the adoption and monitoring of SDGs at the national and sub-national level. Progress in the northeast region is crucial in this decade of action for the country to achieve the SDGs by 2030. This conclave is part of the NITI Aayog's continuous efforts towards fostering partnerships at the sub-national level.
Important takeaways for all competitive exams:
NITI Aayog: National Institution for Transforming India.
NITI Aayog CEO: Amitabh Kant, Vice Chairman: Rajiv Kumar.