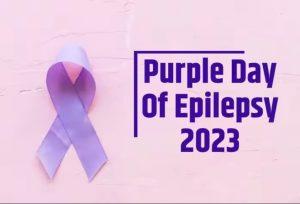 Purple Day of Epilepsy 2023
Purple Day of Epilepsy is an international day of awareness dedicated to raising understanding and reducing the social stigma associated with epilepsy, a neurological condition. It is celebrated annually on March 26 with the goal of educating people about epilepsy, recognizing the signs of a seizure, and offering support to those who are impacted by it. The primary aim of Purple Day is to promote greater knowledge and empathy towards epilepsy and those living with it, with the ultimate aim of creating a more inclusive society.
Buy Prime Test Series for all Banking, SSC, Insurance & other exams
Purple Day of Epilepsy 2023: Significance
As with every year, Purple Day of Epilepsy in 2023 is significant as it aims to raise awareness about epilepsy and reduce the social stigma attached to it. It is an opportunity for individuals, organizations, and communities to come together to learn more about this neurological disorder, understand its impact on people's lives, and show support for those affected by it.
The year 2023 marks the 14th anniversary of Purple Day since its inception in 2008. With the continued efforts of epilepsy organizations, healthcare professionals, and individuals affected by epilepsy, Purple Day has become an internationally recognized event.
By spreading awareness and understanding about epilepsy, Purple Day helps to create a more inclusive and accepting society for those living with this condition. It also serves as a reminder that people with epilepsy deserve the same opportunities and rights as everyone else and should not face discrimination due to their condition.
Purple Day of Epilepsy 2023: History
Purple Day of Epilepsy was founded in 2008 by Cassidy Megan, a young girl from Nova Scotia, Canada, who wanted to raise awareness about epilepsy after her own struggles with the disorder. She chose the color purple as a symbol of epilepsy because it is the color of lavender, which represents solitude and reflection, two emotions commonly associated with people living with epilepsy.
The first Purple Day of Epilepsy was celebrated on March 26, 2008, and since then, it has grown into a global movement. Every year on March 26th, people around the world wear purple and take part in various activities to raise awareness about epilepsy, including walks, fundraising events, educational seminars, and social media campaigns.
You may also read this: