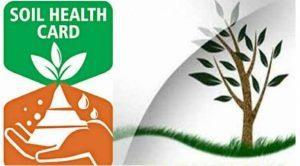 The Soil Health Card Day is being observed on 19th February every year. Prime Minister Narendra Modi had launched the Soil Health Card (SHC) Scheme on 19th February 2015 at Suratgarh in Rajasthan. The scheme aims at issuing soil health cards to farmers every two years so as to provide a basis to address nutritional deficiencies in the soil. The scheme ensures additional income to farmers by an increase in yields and it also promotes sustainable farming.
The scheme has been introduced to assist State Governments to issue Soil Health Cards to all farmers in the country. It provides information to farmers on nutrient status of their soil along with recommendations on the appropriate dosage of nutrients to be applied for improving soil health and its fertility.
During Cycle-I (2015 to 17), 10.74 crores Soil Health Cards and during Cycle-II (2017 to 19), 11.74 crores Soil Health Cards have been distributed to farmers. The Government has spent more than 700 crore rupees on the SHC scheme.
Important takeaways for all competitive exams:
Union Minister of Agriculture and Farmers Welfare: Narendra Singh Tomar.