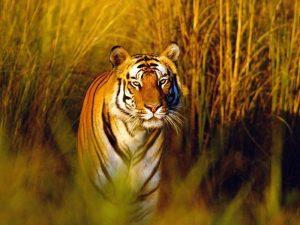 According to a recent census report on tigers in the country, Suhelwa Wildlife Sanctuary has been identified as a new area where photographic evidence of tigers has been captured for the first time. The sanctuary was established in 1988 and is located in Shravasti, Balrampur, and Gonda districts of Uttar Pradesh. It spans across 452 sq km and is positioned on the border of India and Nepal. It is renowned for its natural resources and named after King Soheldev, with the Shivalik ranges of the Himalayas located nearby. Suhelwa Wildlife Sanctuary is a significant area within the Bhabar-Tarai eco-system region, which is renowned for its diverse range of flora and fauna.
Buy Prime Test Series for all Banking, SSC, Insurance & other exams
Vegetation: Sal, Asana, Khair, Teak etc. are the main trees. The sanctuary area is rich in medicinal plants. Some species of medicinal plants are Safed Musuli, Kali Musuli, Piperwala Longum and Adhtoda Vasika etc.
Fauna: Various types of mammals are found here. Leopard, bear, wolf, hyena, jackal, wild boar, sambar, spotted deer etc.
What is the Bhabar region?
The Bhabar region is a narrow strip of land located in the Northern Plains of India.
As the rivers originating from the mountains flow down, they deposit pebbles in this region.
It runs parallel to the slopes of the Shiwaliks and has a width of around 8 to 16 kilometres.
What is Terai Region?
It is South of the Bhabar region where the streams and rivers re-emerge and create a wet, swampy and marshy region known as terai.
You may also read this:
196th birth anniversary of Jyotirao Govindrao Phule
Find More Miscellaneous News Here