The world faces a set of risks that feel both wholly new and eerily familiar. The Global Risks Report 2023 explores some of the most severe risks we may face over the next decade. As we stand on the edge of a low-growth and low-cooperation era, tougher trade-offs risk eroding climate action, human development and future resilience.The World Economic Forum taking place in Davos, Switzerland released the 18th edition of the Global Risk Report 2023 based on the 2022-2023 Global Risks Perception Survey (GRPS).
Buy Prime Test Series for all Banking, SSC, Insurance & other exams
Top Five Risk:-
Cost of living crisis
Food supply crisis
Energy supply crisis
Rising inflation
Cyberattacks on critical infrastructure


Cost of living dominates global risks in the next two years while climate action failure dominates the next decade:-

The next decade will be characterized by environmental and societal crises, driven by underlying geopolitical and economic trends. "Cost-of-living crisis" is ranked as the most severe global risk over the next two years, peaking in the short term. "Biodiversity loss and ecosystem collapse" is viewed as one of the fastest deteriorating global risks over the next decade, and all six environmental risks feature in the top 10 risks over the next 10 years. Nine risks are featured in the top 10 rankings over both the short and the long term, including "Geoeconomic confrontation" and "Erosion of social cohesion and societal polarisation", alongside two new entrants to the top rankings: "Widespread cybercrime and cyber insecurity" and "Large-scale involuntary migration".
Other Risk Highlighted By The Report:-
As an economic era ends, the next will bring more risks of stagnation, divergence and distress.
Geopolitical fragmentation will drive geoeconomic warfare and heighten the risk of multi-domain conflicts.
Technology will exacerbate inequalities while risks from cybersecurity will remain a constant concern
Climate mitigation and climate adaptation efforts are set up for a risky trade-off, while nature collapses
Food, fuel and cost crises exacerbate societal vulnerability while declining investments in human development erode future resilience
As volatility in multiple domains grows in parallel, the risk of polycrises accelerates.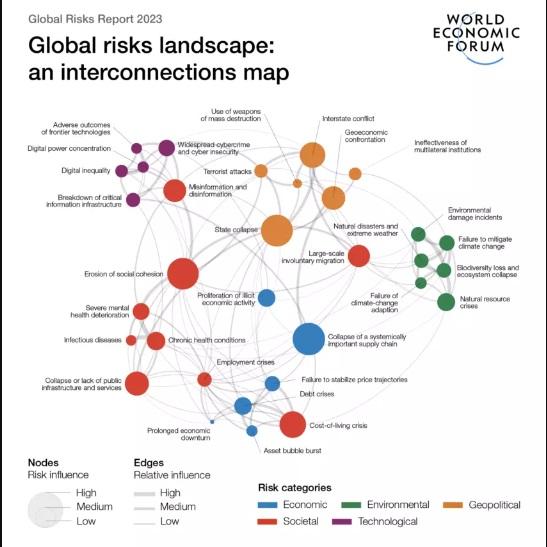 About World Economic Forum:-
The World Economic Forum (WEF) is an international non-governmental and lobbying organization based in Cologny, canton of Geneva, Switzerland. It was founded on 24 January 1971 by German engineer and economist Klaus Schwab. The foundation, which is mostly funded by its 1,000 member companies – typically global enterprises with more than five billion US dollars in turnover – as well as public subsidies, views its own mission as "improving the state of the world by engaging business, political, academic, and other leaders of society to shape global, regional, and industry agendas".
Find More Ranks and Reports Here