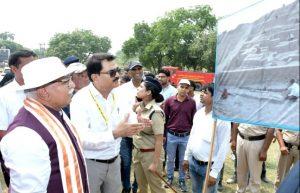 Harappan Culture in Haryana:  The world's largest museum of Harappan culture is coming up in Rakhigarhi in Haryana to showcase about 5,000-year-old Indus Valley artefacts. The village of Rakhigarhi was part of the Indus Valley Civilisation from 2600-1900 BC. Haryana is slated to host the world's largest museum dedicated to the Harappan civilization. Rakhigarhi is a hamlet in Haryana's Hisar district, some 150 kilometres from Delhi. The settlement is also a well-known archaeological site from the time of the Indus Valley civilization.
Bank Maha Pack includes Live Batches, Test Series, Video Lectures & eBooks
History of Rakhigarhi:
There are two villages, Rakhi Khas and Rakhi Shahpur, where you may find the archaeological relics of Rakhigarhi. The ASI started removing a village's foundation for the first time in 1963. Up until 1998, the Rakhigarhi area was the site of 56 skeletal discoveries. Two of them were female remains that date to around 7000 years ago. Additionally, the hands of both skeletons were discovered to have many shell bracelets, a copper mirror, and semi-precious stone beads.
It is believed that Harappa, which was founded in the 1920s, is a 4700-year-old metropolis on the subcontinent. Towns like Lothal, Dholavira, Mohenjo-Daro, and Kalibangan were soon followed by the discovery of more cities, which led to the emergence of the Harappan Civilization and the subsequent designation of these sites as Harappan cities.
Find More Miscellaneous News Here