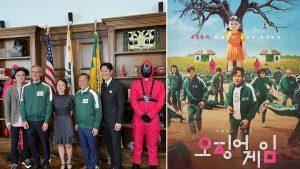 The City of Los Angeles has officially designated September 17 Squid Game Day, in recognition of the South Korean Netflix series' achievements. "Squid Game" was nominated for 14 Emmy Awards in July and is the first non-English language series to earn a nomination for Outstanding Drama Series. It was also the first Korean and first non-English language series to win a Screen Actors Guild Award.
Bank Maha Pack includes Live Batches, Test Series, Video Lectures & eBooks
The resolution noted that Squid Game retains its place as the most-watched Netflix original to date, and that "it was the first ever Korean series on Netflix to reach number one in the US, breaking the barrier that many foreign languages shows a face with Western audiences simply because of subtitles". It also noted that Squid Game successfully introduced diverse facets of Korean culture not just to audiences in the US but across the globe; it has also done so by receiving nominations and awards at numerous American and international ceremonies alike, largely as the first Korean and first foreign-language series to achieve such feats.
Find More Miscellaneous News Here