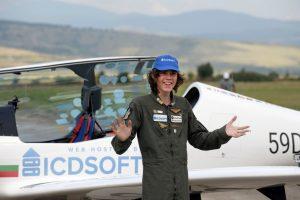 A 17-year-old pilot, Mack Rutherford became the youngest person to fly solo around the world in a small aircraft after he landed in Bulgaria, where his journey kicked off five months ago. Mack Rutherford, a Belgian-British dual national, landed on an airstrip west of Bulgaria's capital, Sofia, to complete his task and claim two Guinness World Records. Along with becoming the youngest person to fly around the world by himself, Rutherford is the youngest person to circumnavigate the globe in a microlight plane.
Bank Maha Pack includes Live Batches, Test Series, Video Lectures & eBooks
About her journey:
Mack Rutherford took the age record from Travis Ludlow of Britain, who was 18 when he made a solo flight around the world last year. The journey, which began March 23, took Rutherford through 52 countries over five continents.
He turned 17 during the trip. To set a mark recognized by the Guinness World Records, he crossed the equator twice.
The flight took him through Africa and the Gulf region to India, China, South Korea and Japan. He crossed the northern Pacific and landed after 10 uninterrupted hours in the air on a volcanic island near the Bering Strait.
Find More Miscellaneous News Here