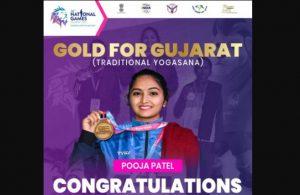 At the 36th National Games, Pooja Patel of Gujarat has become the first athlete to win gold in Yogasana. Yogasana is one of the five sports to be played at the National Games this year for the first time. This Indian indigenous sport made its debut at the Khelo India University Games earlier this year.
Bank Maha Pack includes Live Batches, Test Series, Video Lectures & eBooks
As far as the medal table of the 36th National Games is concerned, Services Sports Control Board is leading the chart with a total of 113 medals, including 51 gold, 33 silver, and 29 bronze. Haryana is second on the table with 95 medals (31 gold, 29 silver, 35 bronze), followed by Maharashtra (119), Karnataka (84), and Tamil Nadu (67). Maharashtra has fewer gold medals than Haryana, which is why it has been placed third on the table.
About the Yogasana:
The word yogasana is derived from two Sanskrit words, Yuj meaning unite and Asana meaning body postures. Yogasana is a sport that focuses on the physical aspect of yoga, where players have to perform yogic postures and are judged on their difficulty, balance, control, flexibility and endurance.
About the 36th National Games:
The 36th edition of the National Games is taking place in six cities of Gujarat. The event began on September 29 and will end on October 12. Ahmedabad, Gandhinagar, Surat, Vadodara, Rajkot, and Bhavnagar are the cities hosting the competition (only the track cycling event will take place in Delhi).
After the 2015 edition, the National Games are being held for the first time this year. The COVID-19 outbreak forced an extended postponement of the Games, which were originally scheduled to be held in 2020.
You may also read: