Today's Current Affairs
8th February 2023 Current Affairs are incorporated with the important news that made the current affairs headlines for banking, UPSC or other competitive exams. Daily Current Affairs is the complete bag of important news that is held all day long. One should have complete knowledge about banking terms, current affairs news, etc. So, here is the Top News of the Day for 08th February 2023 to help you prepare the Latest Current Affairs part. After reading this section, you can successfully attempt Current Affairs Quiz. 
Here is the Current Affairs 08th February 2023 covering the following news headlines: Kamran Akmal, AI chatbot Baidu, Golden Book Awards, Tata Consultancy Services, RBI Monetary Policy, e₹-R, PhonePe, King Charles III.
1. Centre Notifies Appointment Of 5 Judges To Supreme Court of India, Working Strength Rises To 32
The Union government notified the appointment of five new judges to the Supreme Court. With their appointments, the number of judges in the Supreme Court will rise to 32. Currently, the Supreme Court of India has a sanctioned strength of thirty-four Judges and is presently functioning with twenty-seven Judges.
The 5 newly-appointed judges are:
Justice Pankaj Mithal, the chief justice of Rajasthan High Court
Justice Sanjay Karol, the chief justice of Patna High Court
Justice PV Sanjay Kumar, the chief justice of Manipur High Court
Justice Ahsanuddin Amanullah, a judge of Patna High Court
Justice Manoj Misra, a judge of Allahabad High Court
2. Yuva Sangam Registration Portal Launched in New Delhi
The Yuva Sangam registration portal was launched in New Delhi. The Yuva Sangam is an initiative of Prime Minister Narendra Modi to build close ties between the youth of the Northeast Region and the rest of India under the spirit of Ek Bharat Shreshtha Bharat. Under the initiative, over 20 thousand youth will travel across the country and gain a unique opportunity for cross-cultural learning.
3. New British stamp with image of King Charles III unveiled
New 'everyday' stamps featuring the image of King Charles III were unveiled for the first time, the latest item in Britain to get a makeover following the death of Queen Elizabeth.
From coins and banknotes and to the official royal cypher used by the government, Britain has been slowly introducing replacements featuring the new monarch since his mother's death in September. The new stamp, which will go on general sale at the start of April, consists solely of the king's head and its value on a plain coloured background.
4. Natasha Perianayagam Scored Highest in "World's Brightest" Students List
A 13-year-old girl, Natasha Perianayagam won the title of "world's brightest" student. Natasha Perianayagam, an Indian American, was named to the list compiled by the Johns Hopkins Center for Talented Youth in the United States. Natasha has been listed on the "world's brightest" list, previously she also took the Johns Hopkins Center for Talented Youth (CTY) test in 2021, when she was still in the 5th grade. The test is a worldwide operation, with over 1500 students participating in the project across 76 countries.
5. Plant-based meat brand UnCrave signs Vir Das as ambassador
UnCrave, the plant-based meat brand by Licious, unveiled popular comic, actor, and musician Vir Das as its Brand Ambassador. UnCrave understands how meat-lovers feel without meat and fulfills this gap with the most meat-like, vegetarian solution through its plant protein-based meat products.
The actor will also do a campaign for the brand which consists of a series of films, the first of which is titled, 'Without Meat' in which, in his signature style, Das describes a life without meat.
6. K Satyanarayana Raju named as new MD and CEO of Canara Bank
The Union Government has appointed K Satyanarayana Raju as its Managing Director and CEO of Canara Bank, with immediate effect. He will be replacing L V Prabhakar who demitted office on December 31, 2022. He joined the erstwhile Vijaya Bank in 1988, and rose to the level of chief general manager in Bank of Baroda. His experience has led to digital transformation of banking products and services.
Important takeaways for all competitive exams:
Canara Bank Headquarters

:

 

Bengaluru;

Canara Bank Founder

:

 

Ammembal Subba Rao Pai;

Canara Bank Founded

:

 

1 July 1906.
7. Lawyer Victoria Gowri Sworn in as Madras High Court Judge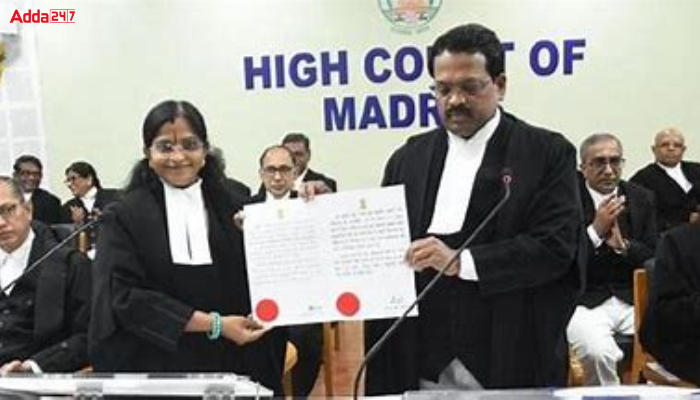 Lawyer Lekshmana Chandra Victoria Gowri was appointed to the higher judiciary and took an oath of office as the additional judge of Madras High Court. Lakshmana Chandra Victoria Gowri faced opposition from a section of the legal fraternity to her following their usual practice. It included reading out the Warrant of Appointment issued by the President, Gowri was administered the oath of office by Acting Chief Justice of Madras High Court Justice T Raja. Besides Gowri, four others also took oath as additional judges of the High Court.
8. India signs MoU with Indonesia-Malaysia-Thailand Growth Triangle Joint Business Council to promote adoption of energy efficiency
Energy Efficiency Services (EESL), a joint venture of public sector undertakings under the Ministry of Power, signed a Memorandum of Understanding (MoU) with Indonesia-Malaysia-Thailand Growth Triangle Joint Business Council (IMT-GT JBC) Malaysia at India Energy Week (IEW). The MoU aims to promote the adoption of energy efficiency and sustainable practices in the region. MT-GT is positioned as part of the ASEAN building block, linking ASEAN Sustainable Urbanisation Strategy with IMT-GT Sustainable Urban Development Framework 2019 – 2036 (SUDF).
9. DGGI and NFSU Signed MoU for Setting Up Digital Forensic Laboratories
The Directorate General of GST Intelligence (DGGI) and the National Forensic Sciences University (NFSU) signed a Memorandum of Understanding (MoU) for setting up digital forensic laboratories along with the exchange of information and knowledge, technological advancement and skill development in the field of digital forensics.
10. Reliance Jio and GSMA unveil Digital Skills Program in India
Reliance Jio in collaboration with GSMA has unveiled a nationwide Digital Skill initiative. This collaborative effort intends to provide rural women and people from low-income groups with training based on their specific needs. The initiative is currently being implemented in 10 states with an emphasis on targeting women and underrepresented groups.Through its extensive network and support from self-help organizations, Reliance Foundation will assist with the deployment.
11. Edelweiss General Insurance rebranded itself as Zuno General Insurance
Edelweiss General Insurance has rebranded itself as Zuno General Insurance Limited (Zuno GI), which is a new age digital insurer with an aspiration to reimagine and redefine Insurance to make it easy, friendly, and transparent. According to company management, the name brings alive the company's passion, enthusiasm, and singular focus on providing customers with the most convenient and hassle-free experience powered by tech that's responsive and intuitive. The name and identity represents the young, innovative, approachable, digital native and upbeat personality of the brand and resonates with the Millennial and GenZ audience.
12. PhonePe launches cross-border UPI payments service
PhonePe announced the debut of a service that will enable its Indian users who are travelling overseas to pay foreign businesses using the Unified Payments Interface (UPI). "UPI international" enables retail locations with a native QR (quick response) code in the UAE, Singapore, Mauritius, Nepal, and Bhutan. Similar to how they do with overseas debit cards, users would be able to make direct payments in a foreign currency from their Indian bank. The Walmart-backed finance app PhonePe claimed to be the first to do so in India.
13. Central Bank Digital Currency (CBDC): e₹-R is in the form of a digital token that represents legal tender: Govt in Lok Sabha
The Reserve Bank of India (RBI) launched the first pilot of Digital Rupee- Retail segment (e₹-R) on December 01, 2022. This was stated by the Union Minister of State for Finance, Shri Pankaj Chaudhary, in a written reply to a question in Lok Sabha. It is being issued in the same denominations that paper currency and coins are currently issued. It is being distributed through financial intermediaries, i.e., banks. The e₹-R offers features of physical cash like trust, safety and settlement finality. As in the case of cash, it will not earn any interest and can be converted to other forms of money, like deposits with banks.
14. 'BizKhata' for small businesses and merchant partners launched by Airtel Payments Bank
Airtel Payments Bank announced the availability of its current account, BizKhata, which offers small businesses and business partners across the nation fast activation and limitless transactions. Because they cannot maintain the minimum amount required for business accounts, many small business owners continue to use savings accounts for business-related expenses. This makes it difficult to distinguish between personal and corporate dealings.
15. RBI Monetary Policy: Repo rate raised by 25 basis points 
Reserve Bank of India (RBI) Governor Shaktikanta Das released the Monetary Policy statement, which included the highly anticipated increase in the repo rate of 25 basis points. The central bank had increased the important benchmark interest rate by 35 basis points in its December monetary policy review (bps). In order to keep inflation under control, the Reserve Bank has raised the short-term lending rate by 250 basis points, including the rate in effect.
Following are the revised rates in the RBI Monetary Policy 2023:
Repo Rate: 6.50%
Standing Deposit Facility (SDF): 6.25%
Marginal Standing Facility (MSF): 6.75%
16. FORTUNE(R) Magazine: TCS named to World's Most Admired Companies List
Tata Consultancy Services (TCS) has been named to FORTUNE® magazine's list of the World's Most Admired Companies. Regarded as a barometer of corporate reputation, the list is based on a survey of business executives, directors and analysts around the globe. Companies are evaluated based on criteria such as innovation, social responsibility, quality of management, global competitiveness, talent management, and quality of products/services.
Important takeaways for all competitive exams:
TCS CEO

:

 

Rajesh Gopinathan (10 Feb 2013–);

TCS Headquarters

:

 

Mumbai;

TCS Founders

:

 

Faquir Chand Kohli, J. R. D. Tata;

TCS Founded

:

 

1 April 1968.
17. India ranks first, contributes 24 pc of global milk production: Centre to Lower House
Union Minister of Fisheries, Animal Husbandry and Dairying, Parshottam Rupala told Lok Sabha that India is the highest milk producer in the world contributing twenty-four per cent of global milk production in the year 2021-22. According to production data of Food and Agriculture Organization Corporate Statistical Database (FAOSTAT), India is the highest milk producer in the world contributing twenty-four per cent of global milk production in the year 2021-22.
18. 16-Member Panel set up to Draft Digital Competition Act within 3 months
Draft Digital Competition Act: A month after a Parliamentary panel sought a new digital competition law, the Competition Commission of India (CCI) has constituted a 16-member committee to look into the Draft Digital Competition Act. Chaired by Corporate Affairs Secretary Manoj Govil, the panel will review existing competition norms and will examine the need for new legislations to tame the digital gatekeepers.  Joint Secretary (Competition) in the Corporate Affairs Ministry will serve as member secretary.
19. A "Golden Book Awards" 2023 announced: Check the list of winners
The "Golden Book Awards" is announced its winner for 2023. This prestigious event recognizes and celebrates the best book in literature. There were more than 75,000 books published in India and nominees include a diverse mix of literary genres, including fiction, non-fiction, poetry, and children's books. The awards are judged by a panel of literary experts, like Dr Kailash Pinjani (President Indian Authors Association), Dr Deepak Parbat (Founder of Superfast Author) & Murali Sundaram (Founder of TLC), who choose the winners based on factors such as originality, creativity, and impact on the literary world.
The winners of Golden Book Awards 2023:
J.K Rowling – Fantastic Beasts: The Secrets Of Dumbledore
Gaur Gopal Das – Energize Your Mind: A Monk's Guide To Mindful Living
Deepak Chopra – The Seven Spiritual Law Of Success: A Practical Guide To Achieving Your Dreams
Kamlesh Patel – The Wisdom Bridge: Nine Principles To A Life That Echoes In The Hearts Of Your Loved Ones
Jeff Kinney – Diary Of A Wimpy Kid: Diper Overlode
20. Jupiter beats Saturn to become the Planet with most Moons
The battle for the most known moons in the Solar System is raging on. After losing its lead to Saturn in 2019, Jupiter has once again surged ahead. Astronomers have counted 12 previously unknown moons in orbit around our Solar System's biggest planet, bringing the known total to 92, and leaving Saturn, with its measly count of 83, in the dust. The orbits of the moons, which are unnamed, have been published in the circulars of the International Astronomical Union's Minor Planet Center, which keeps records of all the small bodies discovered in the Solar System.
21. Chinese search engine Baidu announces Ernie in AI chatbot battle
Chinese search engine Baidu revealed its plans of launching a ChatGPT-style AI chatbot called 'Ernie Bot'. Baidu's Hong Kong-listed shares jumped as much as 13.4% on the news. Ernie, meaning "Enhanced Representation through Knowledge Integration," is a large AI-powered language model introduced in 2019. The news comes after years of work by Baidu to shift from online marketing to more advanced technologies, which has cost the company billions of dollars in research into AI.
22. 41-year-old Pakistan Wicketkeeper-Batter Kamran Akmal Retires From All Forms Of Cricket
Veteran Pakistan wicketkeeper Kamran Akmal has announced his retirement from all forms of cricket. Prior to the 2023 edition of the Pakistan Super League (PSL). Akmal was earlier named as the batting consultant for the Peshawar Zalmi, led by Babar Azam, for the upcoming edition of the PSL. The 41-year-old said that he is keener on taking up managerial roles with the Pakistan Cricket Board (PCB).
23. LeBron James becomes NBA's all-time leading scorer
LeBron James became the all-time leading scorer in the National Basketball Association (NBA), surpassing a record held by the great Kareem Abdul Jabbar since 1984. He pushed his career total to 38,388 points and broke the record that Kareem Abdul-Jabbar held for nearly four decades. He has won four NBA titles, competing in a total of 10 NBA finals. He has a career average of 27.2 points, 7.5 rebounds and 7.3 assists, having played 1409 games over a 20-year-long career that started in 2003. This season, aged 38, LeBron has defied age and expectations, averaging 30/8.5/7.1 for the Los Angeles Lakers.
24. Sculpture Park at Bikaner House Inaugurated in New Delhi
The Sculpture Park at Bikaner House in New Delhi was inaugurated by Rajasthan Chief Secretary Usha Sharma. Sculpture Park showcases a fusion of modern and contemporary art and culture in the traditional setting of Bikaner House. The Sculpture Park is a trailblazer in the national capital and offers a premier platform for emerging artists to showcase their work with ease.
You may also read this: