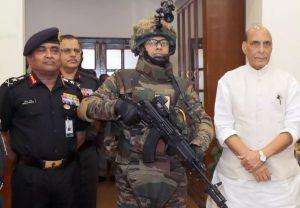 Defence Minister of India, Rajnath Singh handed over to the Indian Army the much-awaited Future Infantry Soldier as a System (F-INSAS) at the unveiling ceremony of various defence and strategic systems held in Delhi. The full gear of the F-INSAS includes an AK-203 assault rifle, which is a Russian-origin gas-operated, magazine-fed, select-fire assault rifle.
 Buy Prime Test Series for all Banking, SSC, Insurance & other exams
About the (F-INSAS) System:
The units of the rifle, which has a range of 300 metres, will be manufactured by an India-Russia joint venture.
A rifle-mounted holographic sight with a range of 200 meters has been provided for target acquisition.
A helmet-mounted night vision facility has been provided for infantry. The helmet and vest can protect from 9 mm ammunition and AK-47 assault rifles.
A hands-free headset has been provided for communication with command posts and other elements on the battlefield.
For the survivability of the infantry soldier, a ballistic helmet, ballistic goggles, bulletproof vest, elbow pads and knee pads have been provided in the system. F-INSAS also includes a state-of-the-art target acquisition and communication system. The Defence Research and Development Organisation (DRDO) conceptualised the F-INSAS project in the early 2000s in line with the targets of the Army's Infantry Soldier Modernisation Programme to optimise the soldier's performance across the full spectrum and duration of a military operation.
Find More News Related to Defence