An earthquake of 7.1 magnitude struck the New Zealand's Kermadec Islands region, the US Geological Survey (USGS) said.
More About The Earthquake:
The earthquake was estimated at a depth of 10 km (6.21 miles). The US Tsunami Warning System has issued a tsunami warning following this earthquake.
Reports in the New Zealand media are suggesting issuance of relevant rescue measures to prevent further mishappenings.
However, the National Emergency Management Agency (Nema) and the Bureau of Meteorology confirmed there was no tsunami threat to mainland New Zealand and Australia.
About The Kermadec Islands: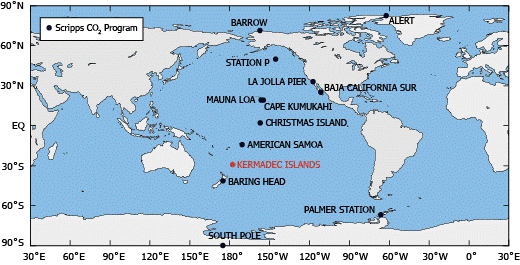 The Kermadec Islands lie northeast of Wellington, New Zealand capital. New Zealand is prone to earthquakes as it is located on the boundary of two of the world's major tectonic plates- the Pacific Plate and the Australian Plate.
New Zealand: FAST FACTS
OFFICIAL NAME: New Zealand/Aotearoa (Maori)
FORM OF GOVERNMENT: Parliamentary democracy
CAPITAL: Wellington
POPULATION: 4,545,627
OFFICIAL LANGUAGES: English/Maori
CURRENCY: New Zealand dollar
PRIME MINISTER: Christopher John Hipkins
AREA: 103,883 square miles (269,055 square kilometers)
MAJOR MOUNTAIN RANGES: Southern Alps, Kaikoura Ranges
MAJOR RIVERS: Waikato, Clurtha, Rangitaiki, Wanganui, Manawatu, Buller, Rakaia, Waitaki, Waiau.
Also Read: Denmark, the first country to import CO2 and bury it undersea
Find More International News Here