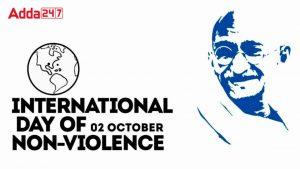 The International Day of Non-Violence is observed on 2nd October, the birthday of Mahatma Gandhi, leader of the Indian independence movement and pioneer of the philosophy and strategy of non-violence. The day is observed to spread the message of non-violence through public awareness and education. It is commemorated with the hope of building a culture of peace, tolerance, understanding and non-violence. "Say No to Violence" is the essence of this day. Mahatma Gandhi was born on October 2, 1869. This year, Gandhi Jayanti will mark the 153rd birth anniversary of Mahatma Gandhi.
Bank Maha Pack includes Live Batches, Test Series, Video Lectures & eBooks
Definition of Non-Violence:
The principle of non-violence — also known as non-violent resistance — rejects the use of physical violence in order to achieve social or political change. Often described as "the politics of ordinary people", this form of social struggle has been adopted by mass populations all over the world in campaigns for social justice.
There are three main categories of non-violence action:
protest and persuasion, including marches and vigils;
non-cooperation; and
non-violent intervention, such as blockades and occupations.
International Day of Non-Violence: History
In January 2004, Iranian Noble Laureate Shirin Ebadi proposed the idea for the special day. Her idea was amenable to many Indian National Congress leaders, who later called upon the United Nations to adopt the plan in 2007. Congress leader and then Minister of State for External Affairs, Anand Sharma, went ahead and introduced the resolution in the General Assembly on behalf of 140 co-sponsors.
The leader of the Indian Independence Movement, Mohandas Karamchand Gandhi, served as an inspiration for social change and civil rights across the world. On June 15th, 2007, the United Nations General Assembly passed a resolution to designate October 2 as International Day of Non-Violence.
According to the UN website, "the resolution reaffirms 'the universal relevance of the principle of non-violence and the desire 'to secure a culture of peace, tolerance, understanding and non-violence".
The life and leadership of Mahatma Gandhi:
Gandhi, who helped lead India to independence, has been the inspiration for non-violent movements for civil rights and social change across the world. Throughout his life, Gandhi remained committed to his belief in non-violence even under oppressive conditions and in the face of seemingly insurmountable challenges.
The theory behind his actions, which included encouraging massive civil disobedience to British law as with the historic Salt March of 1930, was that "just means lead to just ends"; that is, it is irrational to try to use violence to achieve a peaceful society. He believed that Indians must not use violence or hatred in their fight for freedom from colonialism.