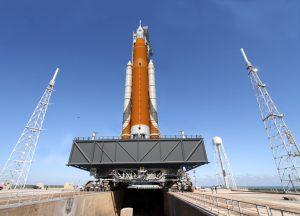 The National Aeronautics and Space Administration (NASA) is looking to carry out the eighth and final test in its "Green Run" test series. This eighth stage termed "hot fire," will bring to an end a series of tests which, NASA says, will gradually bring together the core stage of the Space Launch System (SLS) to life for the very first time. The core stage of the SLS will form the backbone of what NASA says will be the "most powerful rocket in the world" and will power its next-generation human Moon Missions.
The stage will then be assembled with the other parts of the rocket and NASA's Orion spacecraft for Artemis I, which will be the first integrated flight of Orion-SLS and the first under the Artemis programme, under which NASA will take the first woman and the next man to Moon, by 2024.
WARRIOR 4.0 | Banking Awareness Batch for SBI, RRB, RBI and IBPS Exams | Bilingual | Live Class
About the "Green Run":
The 212-foot-tall SLS core stage includes the liquid hydrogen tank and liquid oxygen tank can hold 733,000 gallons of propellant to power the RS-25 engines.
It is the rocket that NASA projects will be carrying a new generation of astronauts to the moon and handle missions beyond the scope of existing commercial crew vehicles.
This rocket is a little shorter than the Saturn V rockets but is more powerful.
This new rocket will be producing 15% greater thrust during liftoff in comparison to Saturn V. When the engines are fired up, 1.6 million pounds of thrust will be generated.
When the 4 RS-25 engines at the bottom of the SLS be ignited, the period of testing for the rocket will close.
This core includes oxygen and liquid hydrogen tanks, 4 engines and computers, and avionics of the rocket.
All these will be turned on as 2.6 million litres of supercooled propellant will be loaded into the rocket and ignited. However, the rocket will remain fixed at the Stennis Space Center of NASA.
Important takeaways for all competitive exams:
The administrator of the National Aeronautics and Space Administration: Jim Bridenstine.
Headquarters of NASA: Washington D.C., United States.