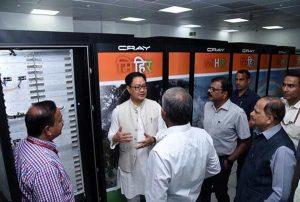 The International Supercomputing Conference (ISC 2023) in Germany, the AI Supercomputer 'AIRAWAT', situated at C-DAC, Pune, achieved an impressive global ranking of 75th on the esteemed Top 500 Global Supercomputing List. This accomplishment establishes India as a leading nation in the field of AI supercomputing. 'AIRAWAT' is part of the Government of India's National Program on AI and represents a significant stride forward in the country's AI capabilities.
The AIRAWAT PoC of 200 AI Petaflops integrated with PARAM Siddhi – AI of 210 AI Petaflops gives a total peak compute of 410 AI Petaflops Mixed Precision and sustained compute capacity of 8.5 Petaflops (Rmax) Double Precision. The peak compute capacity (Double Precision, Rpeak) is 13 Petaflops."
Buy Prime Test Series for all Banking, SSC, Insurance & other exams
Overview of the news:
Artificial Intelligence is the most promising technology in the digital age. India has a strong ecosystem and competitive advantage for AI due to its massive data availability, strong digital economy and skilled workforce.
India has been working in the Applied AI with focus on Natural Language Processing, Image Procession, Pattern Recognition, Agriculture, Medical Imaging, Education, Health Care, Audio assistance, Robotics and developing solutions for the strategic sectors.
Proof of Concept (PoC) AI Research Analytics and Knowledge Dissemination Platform (AIRAWAT) of 200 AI Petaflops Mixed Precision peak compute capacity is currently funded by MeitY and implemented by C-DAC, Pune.
Also Read: Google' Bard chatbot to launch globally, including India