The Indian government recently announced changes in the subsidy rates for key fertilisers, affecting nitrogen (N), phosphorus (P), potassium (K), and sulphur (S). Despite global price increases, the government aims to maintain affordable fertiliser prices for Indian farmers.
Subsidy Reductions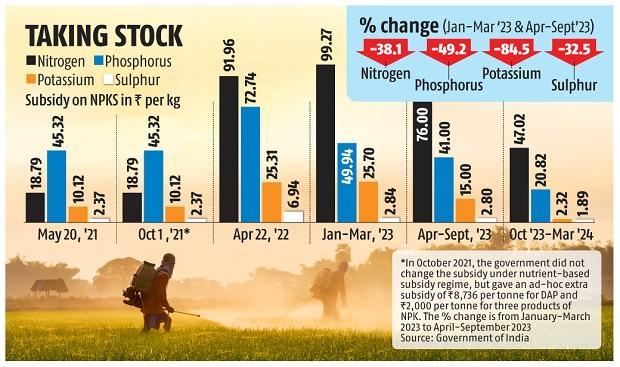 During October-March, subsidies for N, P, K, and S have been reduced compared to April-September.
Nitrogen subsidy decreased by 38%, phosphorus by 49%, potassium by 84%, and sulphur by 32.5%.
Impact on Farmers
Urea will remain highly subsidized at Rs 266 per bag.
Complex fertilisers like DAP will cost Rs 1,350 per bag, NPK varieties at an average of Rs 1,470 per bag, and MOP at Rs 1,655 per bag.
Government Expenditure
The subsidy revision is estimated to cost the government Rs 22,303 crore.
Total subsidy on non-urea fertilisers is expected to be around Rs 60,000 crore, an increase from the initial estimate of Rs 44,000 crore.
Reasoning Behind Changes
International prices of fertilisers have slightly decreased but remain high.
The government is providing subsidies to maintain stable rates despite these fluctuations.
Government's Assurance
The government assures farmers of continued availability of fertilisers at subsidized and reasonable prices.
Various grades of P&K fertilisers will be provided to farmers through manufacturers/importers.
Find More News on Economy Here