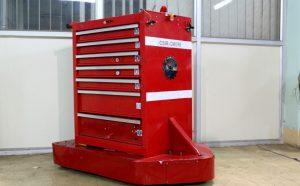 A low-cost robotic device named as "Hospital Care Assistive Robotic Device (H-CARD)" has been developed by CSIR-Central Mechanical Engineering Research Institute (CMERI), Durgapur. This robotic device will be used in the collection of samples of people exhibiting symptoms of COVID-19, and will also be useful in treating COVID-19 patients. Hence, it will be very beneficial for the frontline healthcare workers who are treating COVID-19 patients. HCARD works both in autonomous mode as well as manual mode of navigation.
Click Here To Get Test Series For SBI PO 2020
The Hospital Care Assistive Robotic Device easy to use and affordable for healthcare facilities and can also be employed in maintaining social distancing among people. It is also capable of transporting testing equipment, files, food items, medicines as well as personal protective equipment in a comprehensive sterilised environment. It also comprises a video call facility, due to which the device can also be used in providing food to the patients.